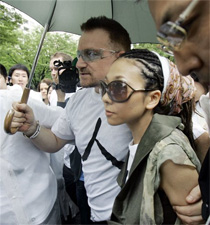 Yesterday musicians including U2 frontman Bono and local star Misia braved the rain to take part in an event in Yokohama to raise awareness of poverty in Africa. The "One For All" event was held at the city's waterfront Yamashita Park, and also featured saxophonist Watanabe Sadao, Colombian rock musician Juanes, and African singer Youssou N'Dour. They and some 1,500 local residents donned white t-shirts with the simple kanji "hito" (person), designed by artist Antony Gormley. In what was described as an artistic installation, the British sculptor directed the crowd in forming a human figure. Also yesterday, Bono addressed the Tokyo International Conference on African Development IV meeting of Japan and African nations, and met with Prime Minister Fukuda Yasuo for about 40 minutes to discuss Japan's aid program to Africa and environmental issues. His attendance at the TICAD meeting, appearances on TV and in various events this week have greatly increased public and media interest in the issues. On Tuesday, Bono received an honorary doctorate from Keio University.
• SMAP's Nakai Masahiro (35) and J-pop queen Koda Kumi (25) were recently spotted at an exclusive onsen resort. The couple were seen leaving a high-class ryokan at the Yugawara onsen this week and the photos appear in today's issue of weekly magazine "Friday." Rumors of their romance caused a huge media buzz late last year but they have continued to refuse to acknowledge their relationship. Following a scandal in January that side-tracked her career, Koda is due to make her first TV appearance in several months on TV Asahi's "Music Station" tonight.
• R&B star Beyonce (26) is showing some love to her many Japanese fans. It was announced yesterday that a compilation album featuring Destiny's Child hits and solo recordings by former members and Beyonce's kid sister Solange (21) will be released in Japan next month. The album will also include a Beyonce cover version of Billy Joel's 1978 hit "Honesty," which has always been a popular song in Japan. The song will be released as a download for mobile phones on June 4, while the album "Love: Destiny" (also the title of a 2001 EP) goes on sale June 25. Beyonce is due to release a new album in November, while the other two former "DesuCha" members Kelly Rowland (27) and Michelle Williams (28) have albums due out in the summer.