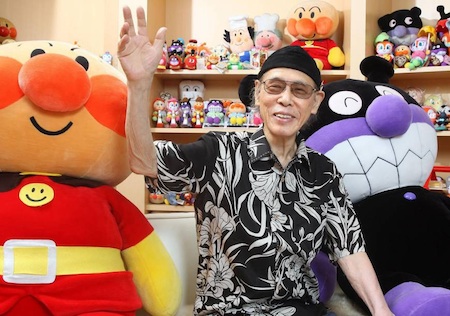 After all the updates on the damage being caused by the biggest typhoon to hit Japan in 10 years, today's morning variety shows discussed the sad loss of animator Yanase Takashi. He died of heart failure on Sunday at the ripe old age of 94. Energetic and optimistic until hospitalized with liver cancer in August, Yanase was the creator of some of Japan's best loved anime characters.
"Soreike Anpanman" was first broadcast in 1988, when Yanase was already a veteran at the age of 69. Starring a superhero with a head made of anpan (sweet bean bun) the central theme of the show for young children was justice, compassion, and self scrifice. Anpanman was regularly called upon to help those in need, when he would invariably let them eat a chunk of his anpan head. Yanase has said that the theme grew out of his harsh experiences serving in the Imperial Army in China during WWII.
Soreike Anpanman featured a never ending cast of characters, and was recognized by Guinness Book of World Records in 2009 for the record 1,768 different characters who had appeared on the show. After northeastern Japan was devastated in the March 2011 earthquake and tsunami, the show's theme song was often played in the region to cheer up survivors.
Actress Toda Keiko (56) spoke of her sadness, "Mr. Yanase was the Anpanman. He embraced us gently and taught us to share. We've lost a precious guiding post."
Yanase became a cartoonist after a more traditional career at a newspaper company and the Mitsukoshi department store. In 1961 he gained fame as the lyricist of the popular kids song, "Te no hira wo taiyo ni".