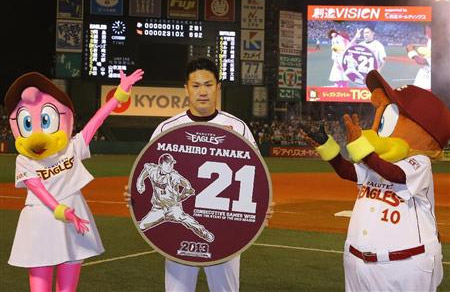 One of the biggest reasons why the Tohoku Rakuten Golden Eagles are solid favorites this season to finally win the Pacific League is ace pitcher Tanaka Masahiro (24). No surprise there. But yesterday he set a phenomenal new record in professional baseball with his 21st consecutive win of the season. Carrying on from the end of last season, he's actually now a mind-blowing 25-0. That's one more than the Major League Baseball mark set by Carl Hubbell of the New York Giants way back in a period between the 1936 and 1937 seasons.
Yesterday Mah-kun gave up two runs over the distance but got more than enough batting support to beat the Orix Buffaloes 6-2. Tanaka hasn't lost a game since Aug. 19, 2012. His team are currently leading the Pacific League by 7.5 games and would have to be strong favorites to go all the way to the Japan Series.
Tanaka first appeared in the limelight as a high school junior in 2005, and over the course of two years his epic pitching duels with rival Saito Yuuki in the national championships was one of the major sports stories. His very last pitch of the 2005 summer tournament was clocked at 150 km/h (93 mph), the first time a pitcher had ever clocked that speed as a junior in the history of the event. In 2006 his school finished runners up but Tanaka was a first-round draft pick by the Eagles, while Saito went on to play ball in college before turning pro.
Tanaka is likely to be the subject of intense interest from the MLB after the end of this season.