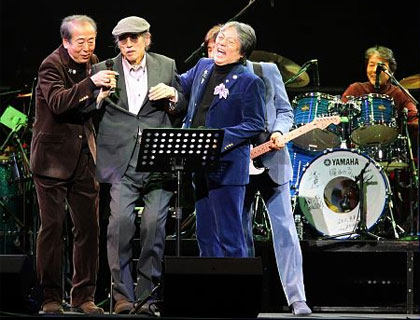 Legendary band The Tigers had a one-night-only reunion last night on the 41st anniversary of their farewell concert at Nippon Budokan in central Tokyo. The event was the final show in a nationwide concert tour by vocalist Sawada "Julie" Kenji (63, photo 3rd from left). He was joined on tour by drummer Hitomi Minoru (65), guitarist Morimoto Taro (64), bassist Kishibe Ittoku (65, photo left). And last night also saw an appearance by Kishibe's younger brother Shiro (62, photo 2nd from left), who has had difficulty walking since suffering a stroke in 2003. In what he described as "like a dream," he took part in a performance of the Bee Gees song "First of May," the first by the band's five members since they split in 1971. The only absentee was founding member Kahashi Katsumi (63) and Sawada said he hoped to see a full reunion in the near future.
The Tigers were one of the most successful rock and roll bands in the so-called "group sounds" scene of the 1960s and were the first band to play the Budokan, then the biggest indoor arena in the country. It has since become something of a mecca for both Japanese artists and top acts from overseas.
Japan a No-Show at Oscars
After a few years of nominations and Academy Awards, there won't be any Japanese representation at this year's Oscars, to be held in Los Angeles on February 26. It looks like the only nomination with a Japanese angle is the documentary feature, "The Tsunami and the Cherry Blossom." Directed by Lucy Walker, the critically acclaimed film is described in IMDB as "Survivors in the areas hardest hit by Japan's recent tsunami find the courage to revive and rebuild as cherry blossom season begins." It has been nominated for Best Documentary Short Subject.
There were hopes that Taiwanese historical drama epic "Seediq Bale," which features actor Ando Masanobu (36), would get a nomination but it wasn't chosen in the Best Foreign Film category. And the talk of this year's awards is "The Artist," the black and white tribute to old Hollywood which earned a nod for Best Picture and is the first silent movie to be nominated in 83 years.