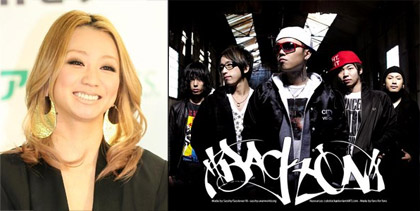 J-pop queen Koda Kumi (29) took the showbiz world by surprise when she announced on her official website early this morning that she is about to get married. She and guitarist Kenji03 (27, band photo 2nd from left) of the band Back-On are planning to tie the knot before the end of the year. Koda said, "He is a wonderful person who completely accepts me as I am and creates an atmosphere where I can relax and be myself."
The couple are with the same management agency and worked together professionally before they started dating this spring. And to get the standard J-media checklist out of the way, they are not yet living together and Koda is not pregnant. She was of course famously linked with SMAP leader Nakai Masahiro (39) back in 2007, a relationship that was never publicly acknowledged.
Kenji03 collaborated with Koda's younger sister Misono (27), performing under the stage name Me, on a single back in February. He was a member of Kumi's backing band for the Avex a-Nation concert in the summer, while she collaborated with Back-On vocalist Teeda on a single in August.