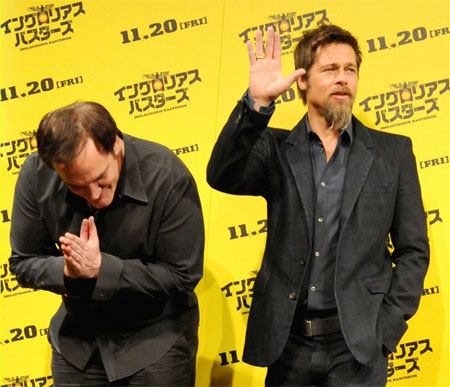 Hollywood star Brad Pitt (45) filmed his first ever guest appearance on a Japanese variety show on his recent PR trip to Tokyo. He and director Quentin Tarantino (46) were in town last week to promote the movie "Inglourious Basterds" and they fitted in a visit to the Fuji TV show "SMAPxSMAP". The episode will be aired on Monday, November 16. The Hollywood duo appear on the "Bistro SMAP" segment, with members of the pop group preparing dishes ordered by their guests. Katori Shingo (32) joked that when he feels run down, he watches the Pitt movie "Fight Club," to which Burapi happily quipped, "Me, too!" He and Tarantino talked about their love for Tokyo and Japan. Pitt has appeared in many TV commercials here, for products such as Edwin jeans and the Softbank mobile phone network. Tarantino paid tribute to the Japanese chambara movie style in his "Kill Bill" movies. "Inglorious…" is scheduled for release in Japan on the 20th.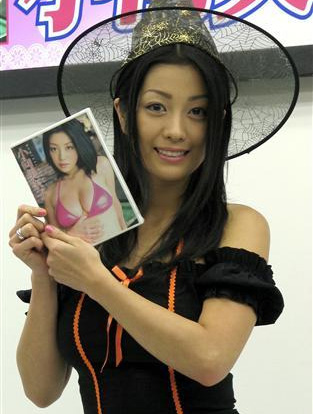 Less than 9 months after her drug trial, former talento Komukai Minako (24) is to release an appropriately titled debut single this week. Arrested in January for use of amphetamines, she received a an 18-month sentence, suspended for three years, at the end of February. The sentence is the same as that handed down yesterday to former top idol singer Sakai Noriko (38), so Komukai's move back into the showbiz limelight is likely to be watched closely. She had a controversial run at the Rock-za strip theater in June, with her former management agency using the courts in an effort to stop her from appearing. She made her first TV appearance following the scandal on a Beat Takeshi-hosted variety show in August. And tomorrow sees the online release of the single "I Am Scandal." Sources say Komukai plans to return to the Rock-za and work mainly as a stripper.
Earlier story:
The Fall of the Bikini Model
• Rock band Bon Jovi are the first western act to have five No.1's on the Oricon album chart. Their 11th original album, "The Circle," sold 67,000 copies in its first week to top the chart. The band released a short statement thanking their Japanese fans.