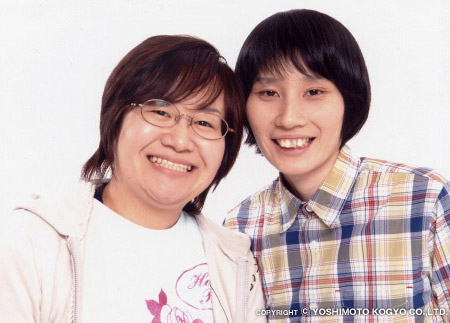 Yoshimoto (profile) comedienne Minowa Haruka (29, photo right) is getting back to work this weekend after her recent medical scare. One half of the manzai duo Harisenbon, she is never the most healthy looking person at the best of times and this is often used in her comedy. But things became more serious when she was hospitalized with tuberculosis in early April. As the disease is highly contagious, Yoshimoto and the TV networks went into a bit of a panic over whether she might have passed it on to her co-workers or TV studio audiences. As it turned out, the problem had been contained, but Minowa remained in hospital until May 29. She has since been resting at home and will return to work on Sunday, when she will rejoin the lineup of a TBS variety show.
• Model Fujii Lena (24) yesterday acknowledged her romantic relationship with musician Issa (30). Appearing at a PR event for her bridal fashion brand L et Lena, the so-called "charisma model" giggled happily as she answered questions from reporters. Photos of the couple were published in last week's issue of weekly gossip magazine "Josei Seven." Issa, of the dance pop group Da Pump, has previously been linked with actress Shibasaki Kou (27) and talento Abiru Yu (22). Asked for a comment, management for Issa simply said, "He's an adult so we leave his private life up to him."
• Also acknowledging their relationship this week were young talento Kinoshita Yukina (21) and not so young but popular comedian Fujimoto Toshifumi (38). "Fujimon," as he's popularly known, is one half of the manzai duo Fujiwara. Kinoshita has played on her bad girl past and straight-talking style to build her fan base.