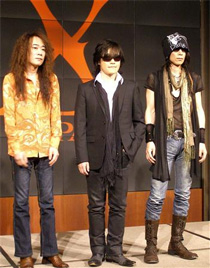 The three "healthy" members of rock band X Japan held a brief press conference in Tokyo yesterday to formally announce the postponement of their world tour. We reported that news here on Japan Zone more than a week ago and there were no new revelations yesterday. Vocalist Toshi, guitarist Pata and bass player Heath talked to the press at the Park Hyatt hotel in Shinjuku, Tokyo, acknowledging that drummer and band leader Yoshiki is currently undergoing medical treatment at his home in Los Angeles. His doctors have forbidden him from performing or traveling long distances. This means that planned shows in Paris, New York and Taipei have been postponed and also that Yoshiki is unlikely to be able to fulfill his wish to visit the Japan Expo in Paris in early July. Toshi said, "I spoke to him on the phone and the regret was clear in his voice and words." But, he added, "Once everything is ready to go, we're going to start the ed-treatment-info.com assault again."
• Actress Hamada Maha (33) got married a couple of months ago, her management revealed yesterday. They say she and her husband tied the knot in Hawaii in April. The couple met at the wedding reception of a friend in 2001. Hamada says she knew within a week that she wanted to marry the 31-year-old company employee, who she described as resembling rocker Yazawa Eikichi. As for the timing of the announcement, it turns out that Hamada is currently six months pregnant and expecting in November.
• Actress Hirosue Ryoko (27) has won a libel case against a weekly magazine. "Josei Seven" published an article in March 2007 that included a photo of her riding on the back of a motorcycle ridden by an actor, and suggested they were having an affair. Hirosue sought ¥23 million in libel damages at the Tokyo District Court, and yesterday was awarded ¥1.2 million. Hirosue and her designer husband divorced in March of this year, though the same weekly magazine predicted the split as early as November 2006.