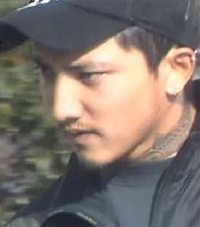 Prosecutors at the Tokyo District Court are seeking an eight-year prison sentence for former idol singer Goto Yuuki (21). During the closing argument of the trial yesterday, they said the likelihood of a return to crime was high and that Goto should be put away. He has admitted to the charges of robbery at several construction sites, for which he was arrested last October and again in December. Although he has denied the charge of assault on a security guard, insisting that an accomplice was responsible, he admitted that he paid the guard ¥200 million in an out-of-court settlement. Appearing in the courtroom with his head shaven and a tattoo peeking over the collar of his suit, Goto said "I committed the crime because I needed money for my living costs." In the courtroom were his mother and wife, who is expecting their third child in July, but there was no sign of his sister, idol singer and former Morning Musume member Goto Maki (22). The court's verdict will be handed down on May 21.
• The Victor Entertainment record company has described as "pure conjecture" the recent newspaper story claiming that rock band Southern All Stars are on the verge of breaking up. Tokyo Sports said in an article published yesterday that the hugely popular band, led by charismatic singer Kuwata Keisuke, were planning to split next year after their 30th anniversary concert tour. Victor said they will make an official statement on May 19.
• "Heart Station", the latest album from Utada Hikaru (25) is another million seller. Each of her six albums released to date have broken the mark, and her total album sales are over 20 million. Digital downloads of "Prisoner of Love," the theme tune for Fuji TV's drama "Last Friends," and other tracks from the new album have already reached 15 million.