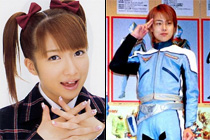 The truth is out about Tsuji Nozomi (19). It turns out that the reason the former Morning Musume member recently dropped out of a planned stage musical is that she is two months pregnant and planning to get married on her 20th birthday. She and actor Sugiura Taiyou (26) started dating last year and visited each other's family homes at the end of the year. The diminutive Tsuji, who debuted with Morning Musume in 2000 at the age of 12, was always one of the group's most popular members. After she "graduated" from the group in 2004, she formed the duo "W" with Kago Ai (19), only to see that go down in flames when Kago was fired from the Hello! Project in April. Tsuji was swiftly named to lead a new trio called Gyaruru just two weeks ago, but was diagnosed with an acute stomach ulcer days later. Given the news of her pregnancy, it's likely she is also suffering from morning sickness and will most likely soon be on maternity leave so the future of Gyaruru is unclear. Of the more than two dozen girls who've been members of Morning Musume over the last ten years Tsuji will be just the third to get married. Sugiura made his break in 2001 playing the lead role in the "Ultraman Cosmos" action hero series on TBS. In 2002 he and his younger brother Takao made their singing debut as the duo Ex. Bold. His latest project is the movie "Zero Kara no Kaze", scheduled for release in December.
• Happy news too for talento couple Fujii Takashi (35) and Otoha (26). The couple, who married in July 2005, are expecting their first baby in November. Fujii is best known for his character Matthew Minami, who appeared in the Hollywood movie "Lost in Translation".
• "Spiderman 3" is off to a flying start. It broke the ¥3 billion barrier at the box office in just six days since it opened on May 1, a new record for a Hollywood movie. It's been seen by over 2.5 million people, way more than the 800,000 who have been to see "Babel", which opened three days earlier.