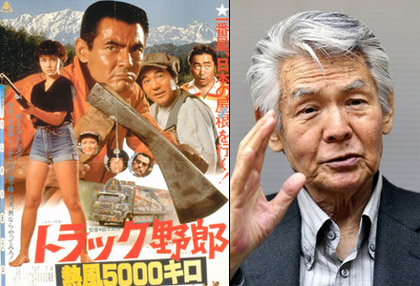 Just weeks after the death of Takakura Ken, Japan has lost yet another of its screen legends. It was announced this week that Sugawara Bunta died of liver cancer on November 28. He was 81. He started acting in 1954 and made his screen debut two years later. He changed studios several times over his early career, even being fired once for turning up late for filming after a night of heavy drinking. Like Takakura, Sugawara made his name as a stoic tough guy during a golden age of Japanese hard boiled cinema in the 1960s. But he only became a major star in the 70s when he starred in Fukasaku Kinji's five-part yakuza epic series "Battles Without Honor and Humanity" (Jinjinaki Tatakai), one of the major influences on the work of Quentin Tarantino.
In the popular Torakku Yaro comedy series, Sugawara mixed the tough guy image with comedy and in later years he continued to appear in increasingly diverse roles, including a voice role in Miyazaki Hayao's anime classic "Spirited Away" (Sen to Chihiro no Kamikakushi, 2001).
In 2012, following an illness and deeply affected by the tragedy of the Great East Japan Earthquake the year before, he announced his retirement from acting.