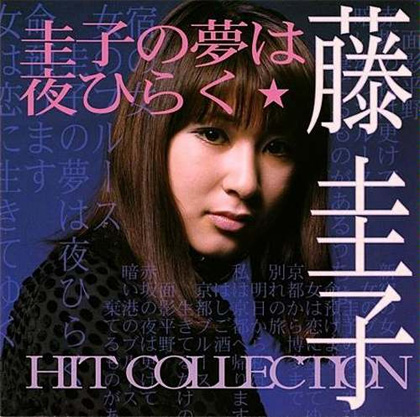 Keiko Fuji, a former enka legend and the mother of J-pop superstar Utada Hikaru, died yesterday after falling from the 13th-floor balcony of her Tokyo apartment. She was 62. Police are treating the case as an apparent suicide, though no note was found at the scene.
Fuji was the daughter of musicians and led a nomadic lifestyle as a child. She became a breakthrough star following her 1969 debut in the world of enka ballads. Her first single "Shinjuku no Onna" was typical of her dark and melancholy songs about women of the night, and her debut album of the same name spent 20 weeks at the top of the charts. The immediate follow up, "Onna no Blues" was also a huge hit, topping the charts for 17 weeks. No one has since broken that record of 37 consecutive weeks atop the chart.
Fuji married enka singer Maekawa Kiyoshi in 1971 but they were divorced the following year. Fuji's musical decline began after she underwent surgery for a throat polyp in 1974. She went through a series of comebacks but never reclaimed her former glory. She announced her retirement in 1979 and moved to the US until making a comeback in 1981. She married producer Utada Teruzane (65) in 1982 and their daughter Hikaru was born the next year. The family formed a self-managed trio under the name U3 in 1995 and released a single on their own label.
Hikaru of course went on to become a huge star in her own right, but the family continued to be plagued by misfortune. Fuji and Utada divorced in 2007, a year after Fuji was held at JFK airport after more than $400,000 of cash were found in her luggage (the money wasn't returned to her until 2009).