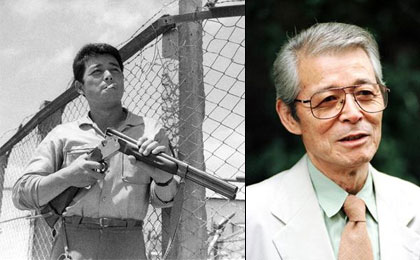 Another veteran Japanese movie star has been lost to cancer. Nitani Hideaki died at the Keio University Hospital in Tokyo on January 7 of lung cancer. He was 81. His funeral will be held on Wednesday at the Zojoji temple in Tokyo and presided over by his widow, actress Shirakawa Yumi. Perhaps most widely remembered as the star of the classic TV Asahi detective show "Tokusou Sazensen," which aired from 1977 till the mid-80s, Nitani was already a major star before that show, appearing in many action movies from the Nikkatsu studio. He could probably be ranked as the studio's third star of the 60s behind Ishihara Yujiro and Kobayashi Akira. He left Nikkatsu in 1971 and thereafter worked mainly on TV, usually typecast as the laid-back, middle-aged male character. He also served as an executive director of the Japan Actors Union and was involved in an NPO establishing schools in Cambodia. His daughter, former actress Nitani Yurie, is CEO of the Try Group company.

New Showbiz Arrival
Happier news of the childbirth front, with two stars having a New Year baby. Management for actress Koyuki (35) and actor Matsuyama Kenichi (26) announced yesterday that the couple became parents of a baby boy on January 5. Yesterday also saw the start of NHK's latest yearlong taiga (historical drama) series, with MatsuKen in the title role of Taira no Kiyomori, a general of the late Heian period. The couple (photo left) married in April of last year and Koyuki announced her pregnancy in September around the time she was promoting her latest movie, "Tantei wa Bar ni Iru." She plans to continue her career after a few months of maternity leave.
MisuChiru to Release Hits Collection
Mister Children (photo right), one of Japan's most popular rock bands, announced yesterday that they will release two albums of hits to commemorate the 20th anniversary of their 1992 debut. Track details have not been announced but will no doubt include such hits as "Sign" (2004) and "Shirushi" (2006). The band will release "Mr Children 2001-2005 (Micro)" and "Mr Children 2006-1010 (Macro)" on May 10 and will support the albums with a major nationwide concert tour. MisuChiru, as they are popularly known, have not released a single since 2008's "Hanabi." They released a pair of hits albums in 2001 to mark their first decade, and they saw sales of over 5 million copies.