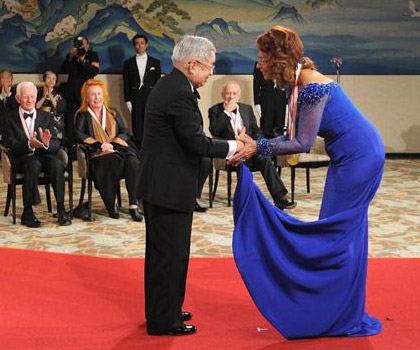 Tokyo yesterday played host to the five laureates of the "22nd Praemium Imperiale" arts award, with a heavy leaning toward the Italians. This year's recipients – Italian actress Sophia Loren (76), German sculptor Rebecca Horn (66), Italian pianist Maurizio Pollini (68), Japanese architect Toyo Ito (69) and Italian painter Enrico Castellani (80) – received a medal from Prince Hitachinomiya, younger brother of Emperor Akihito. They also received a certificate of appreciation and ¥15 million in cash. The ceremony and a cocktail reception were held at the Meiji Kinenkan in Akasaka in central Tokyo.
"This prize beautifully summarizes my whole work," a dazzling Loren later told a news conference. The Sankei Shimbun quoted Horn as saying, "I'm truly honored. I come to Japan almost every year, and I get a lot of inspiration every time."
The prestigious culture prize recognizes significant lifetime achievement in areas of international arts and culture not covered by the Nobel Prizes, according to the Japan Art Association, who established the award in 1988. In Japanese it is known as the "Takamatsunomiya-kaden Kinen Sekai Bunkasho," which translates as Prince Takamatsunomiya Memorial World Culture Award.