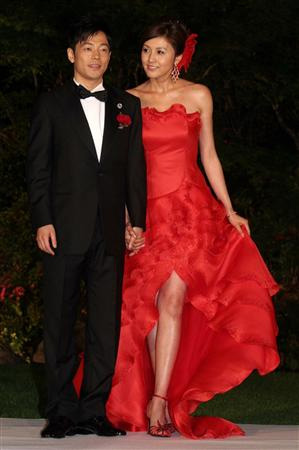 Just two years ago they were billed as one of the "super couples" of Japanese showbiz, but it looks like Fujiwara Norika (37) and Jinnai Tomonori (35) have come to the end of the road. According to the Sports Hochi website, the couple have both stamped their seals on divorce papers and it's just a matter of days before they make the decision legal. Fujiwara is currently visiting Kenya in her role as a Red Cross ambassador. Their relationship is said to have taken a turn for the worse last autumn. Up until that time Jinnai had been commuting several times a week between their home in Tokyo and a TV studio in Osaka for the live morning show "Narutomo!" It was speculated that he quit the show in September so he could spend more time with his wife. But Jinnai is said to have been the one to obtain the divorce papers. Fujiwara made up her mind to add her seal when a stage production came to a close at the end of last month. From the start there were those who said theirs was a mismatched marriage, referred to in Japanese as "kakusakon." A former Miss Japan, Fujiwara is a successful actress and one of the business's biggest earners with a string of commercial contracts, regular TV and stage roles, and also active in charitable causes. Jinnai has established himself as a TV regular over the last few years but is still mainly seen as a "pin-geinin" or solo comedian. They held their elaborate traditional wedding on February 17, 2007 at the Ikutajinja shrine in Fujiwara's hometown of Kobe, with hundreds of reporters and thousands of fans craning for a glimpse outside. They invited 600 guests to the Hotel Okura the following April for a wedding reception that cost over ¥500 million. The event was broadcast live on TV and had a high audience rating of 40% in the Kansai region. With both stars juggling intensive work schedules, it wasn't until the following New Year that they got to take their honeymoon in Africa.
Happier news it seems for another comedian-actress couple. A significant age difference doesn't seem to prevented romance from blossoming between talento Imada Koji (43) and actress Kato Rosa (23). The two were recently spotted out on a date, with photos appearing today in the latest issue of weekly magazine "Friday." A former comedian, Imada is one of the most established names with the major Yoshimoto Kogyo agency, who declined to comment on the story. He is a regular on the variety show circuit, often acting as emcee. Kato has seen her career take off in the last couple of years, landing commercial contracts and a string of leading roles on TV and the big screen. She and Imada first worked together on the NTV drama "Africa no Tsume" in 2004.
• British rockers Oasis kicked off their latest Japan tour in Nagoya last night. They played a set of 20 songs, including their upcoming release "Falling Down," for 8,000 fans at the Nihon Gaishi Hall. The new single, set for release in May, is to be their first anime tie up. It will be used as the theme song for the new Fuji TV series "Higashi no Eden," which airs from April 9. The band will also make their first live appearance on Japanese TV on a 3-hour special edition of TV Asahi's "Music Station" on March 27.