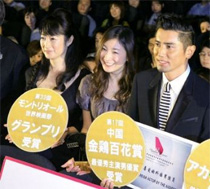 At the weekend, the Japanese movie "Okuribito" (Departures) won three prizes at China's biggest film festival…or did it? The Takita Yojiro-directed movie won the Grand Prix des Americas at the Montreal World Film Festival earlier this month, and on Friday it was announced as Japan's entry for Best Foreign Film at next year's Academy Awards. Japanese media reported that on Saturday it took three audience awards at the 17th biennial Golden Rooster and Hundred Flowers Film Festival in the northeastern Chinese city of Dalian, where it was one of 18 invited foreign movies. In addition to taking Best Film, star Motoki Masahiro (42) won as Best Actor, and Takita took the Best Director award. The awards were decided by a panel of 101 judges drawn from 2.6 million readers of the People's Film magazine. But media outside Japan includes no mention whatsoever of the Japanese film. Chinese and foreign news reports say that director Feng Xiaogang's war movie "Assembly" was the big winner, taking the awards for Best Film, Director, Actor and Supporting Actor. Japan Zone can only assume that there were separate awards for Chinese and foreign films. Regardless of whether there is in fact any confusion, the cast members took full advantage of the publicity when they appeared at a screening in Tokyo on Saturday. For the media photo shoot, Motoki held plaques commemorating the awards. Co-starring Hirosue Ryoko (28), "Okuribito" tells the story of an out-of-work cellist who takes up the job of an undertaker.
• Actor Fuse Hiroshi (50) and actress Komura Hiro (42) are on the verge of ending their 16-year marriage. Komura's lawyer filed for a divorce at the end of August. Long considered one of the ideal showbiz couples, the first cracks appeared earlier this year. Appearing on a TV show in April, Komura said they had been separated since 2006. Though it's rumored that Fuse has a long and ongoing extra-marital relationship, Komura said the source of the trouble was the question of how to care for the aging parents on both sides of the family. Fuse was still living in the same home as his parents, while Komura had moved with their three sons to a house near her parents. Asked about their relationship at the time, Komura said, "The children keep in touch with their father. But I don't have much contact with him." She gave up acting while her children were small but has since resumed her career, returning to the stage in July 2006.
• Also going their separate ways are actor Kato Haruhiko (33) and popular Chukyo TV announcer Honda Sayuri (31), it was revealed on Saturday. The two Nagoya natives started dating after they appeared together on an NTV telethon in August 2006, but are said to have split up at the beginning of this year. One women's magazine reported that Kato had called off wedding plans after consulting with a feng sui practitioner.
• Happier news for former Yomiuri Giants pitcher Miyamoto Kazutomo (44). Now a commentator on the NTV sports program "Zoom In!! Saturday," he was uncharacteristically red-faced as he announced on the show that he got remarried last week. He said that he and nihon buyoka (Japanese traditional dancer) Wakayagi Kirara (32) tied the knot on September 9. She is the daughter of senior buyoka Wakagi Hikosaemon who, in 1998 represented Japan in the Miss Asia Pacific beauty contest. Miyamoto's first marriage ended in 1996, and his baseball career a year later.