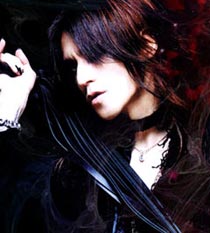 J-rock guitarist Sugizo is to join the band Juno Reactor their North America tour later this month. The "Gods and Monsters" tour is in support of the recent album of the same name, which featured Sugizo, one-time Asian Dub Foundation vocalist Ghetto Priest and a host of other guest artists from around the world. The tour is their first visit to the U.S. in seven years. They will have a hectic schedule, taking in two shows in Mexico on September 18-19 and then Denver, Aspen, San Francisco, Los Angeles, Chicago and New York between September 20-28. A multi-ethnic group that defy simple categorization, Juno Reactor have been at the forefront of electronic music for over 15 years. The band themselves classify their music as electronica/industrial/ambient. Whatever you call it, it has featured in a multitude of movies (including "The Matrix"), video games and commercials over the years, and they headlined Japan's major Fuji Rock Festival in 2007. As the lead guitarist for top J-rock band Luna Sea, Sugizo is a pioneer of the J-rock scene, and recently performed with the reunited X Japan. He also joined Juno Reactor on their recent tour of Europe, though their official site doesn't say if he'll be with them for a scheduled October 30 show in Sofia, Bulgaria.
• Fuji TV announcer Ito Toshihiro (36) announced yesterday on the network's "Mezamashi Terebi" morning show that he became a father this week. Standing in for presenter Ohtsuka Norikazu (59), who is on summer vacation, he said his wife gave birth to a baby boy on Wednesday. Ito is also the main presenter on the "Sakiyomi" news show, on which he had to read out a letter of apology from co-presenter Yamamoto Mona after she was found to be having an affair with a baseball star. Meanwhile, actress Ohkochi Nanako (31) and stage actor/producer Takuma Takayuki (38) are also the proud parents of a new baby boy. They announced the September 4 birth through their management agencies this week.
• It seems that talento Anzai Hiroko (29) is on her way back into showbiz, though slowly. A hugely popular model and TV personality in the late 1990s, and considered along with Hamasaki Ayumi to be a fashion and style leader for a generation of young Japanese females, she largely disappeared from the scene in the last few years. Her only appearance in the news was late last year when she split up with Kawabata Kaname (29) of the J-pop duo Chemistry. And she was recently included in a "Flash" magazine "where are they now?" article on busty pin-up girls. But she graces the cover of the latest issue of fashion magazine "Blenda Black" and features in a special spread inside.
• Canadian sk8ter girl Avril Lavigne (23) kicked off her latest Japan tour at the Hamamatsu Arena on Wednesday night. She entertained the 5,000 fans with a 17-song set that consisted mostly of songs from her third album, "Best Damn Thing" (Lavigne is the only foreign artist to see their first three albums become million-sellers in Japan). During the encore, she was joined by her husband, Sum 41 vocalist Deryck Whibley, on guitar for a rendition of "In Too Deep." Her September 16 show at Tokyo Dome will feature guest appearances by local J-pop stars Puffy and Ohtsuka Ai.
• Doctor/talento Nishikawa Ayako (37) is in a relationship with a former politician, according to this week's issue of weekly magazine "Friday." Famous for saying she could never marry someone who makes less than ¥40 million a year, Nishikawa was spotted several times out on the town with the 34-year-old former secretary to diet member Hirasawa Katsuei, after which she spent the night at his luxury Tokyo apartment. Her management agency has acknowledged the relationship, saying they've known each other for about ten years but began dating only recently and adding, "She's 37 after all. This could be her last chance." Asked about his income from the welfare company her new boyfriend now runs, Nishikawa insisted "It's not about the money, it's love!"