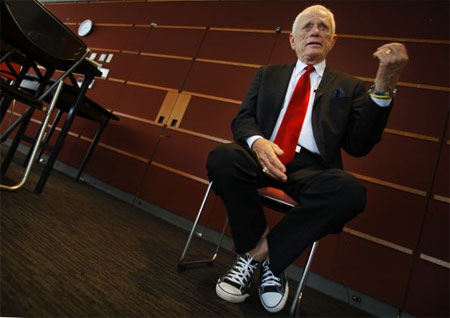 Dolphin conservationist Ric O'Barry just doesn't know when to stop. The 74-year-old is back in Japan for the umpteenth time in his ongoing effort to bring an end to the dolphin slaughter and capture in the small fishing town of Taiji, Wakayama Prefecture. This time he has decided to take a new tack – suing the Taiji Whale Museum for recently refusing to allow him entry.
Speaking at a press conference in Tokyo yesterday, O'Barry said he was attempting to monitor the condition of a baby albino bottlenose dolphin captured in January, that activists worldwide have nicknamed Angel. "They don't want people like me to go into the Taiji Whale Museum to monitor Angel," O'Barry said. Museum head Hayashi Katsuki defending his policy, saying, "We just politely refuse those kinds of people. They demand we free the dolphins."
Japan Zone has accompanied and supported O'Barry in Taiji in the past, with owner Mark McBennett inspired to get involved after watching the 2009 Academy Award-winning documentary "The Cove". The film documents the history and shocking nature of the annual dolphin hunt, which locals and Japanese media and officials defend as tradition. The controversial issue has remained in the spotlight ever since, with activists and locals equally entrenched and no sign of compromise in sight.
The Taiji aquarium says the albino dolphin, which they have named Supika, is healthy, eating herring and swimming with the other dolphins. The aquarium also sells whale and dolphin meat, a fate that staff admit may well have befallen Angel's family after the January capture and slaughter.
"Hundreds of thousands of dolphins have died there, in the most brutal way imaginable," said O'Barry. "Angel is the symbol of all of that. That is why she is so important."