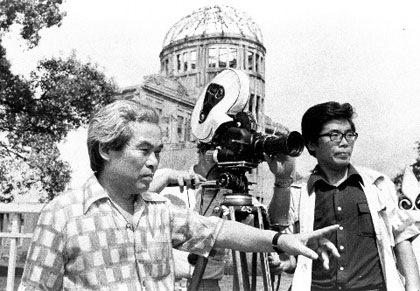 More than 1,000 people attended today's funeral for the late movie director and screenwriter Shindo Kaneto (photo left), who died of natural causes on May 29 at the age of 100. At the Zojoji temple in Tokyo, actor Tsugawa Masahiko (72) was among those reading messages of condolence. He recalled working with Shindo on "Ichimai no Hagaki" (Postcard), his final movie project which was released last year. It was selected as Japan's entry for the Best Foreign Language Film Oscar but did not make final nominee list.
In 1934 he realized his dream of entering the movie world, joining the film developing department of Shinkō Kinema. It would be another 17 years working as an art director and aspiring screenwriter before he would make his directorial debut. One of his early mentors was the great Mizoguchi Kenji, and one of the features their works have in common is what one critic called a "worship of womanhood." A native of Hiroshima, Shindo's work was greatly influenced by the city's atomic bombing in 1945.
In 1950, Shindo and actor Taiji Tonoyama set up Kindai Eiga Kyokai, an independent production company. In 1953, the controversial "Genpatsu no Ko" (Children of Hiroshima) – which starred his regular leading lady Otowa Nobuko as a young teacher who returns to several years after the bomb in search of her former students – was a critical success when it premiered at the Cannes Film Festival. 1960's "The Naked Island" was an international hit starring Otowa and Tonoyama, and its commercial success saved their company from bankruptcy. It was awarded the Grand Prize at the 1961 Moscow Film Festival.
Over a 7-decade career, Shindo directed 48 films and wrote 238 scripts. His other best known films as a director include "Onibaba," "Kuroneko," and "Kousatsu" (The Strangling). All starred Otowa who, though he was married, was Shindo's lover from the early 1950s. The two finally married in 1978, a year after Shindo's wife died. The multiple award-winning "A Last Note" was Otowa's final film, and she died in 1994 of liver cancer.