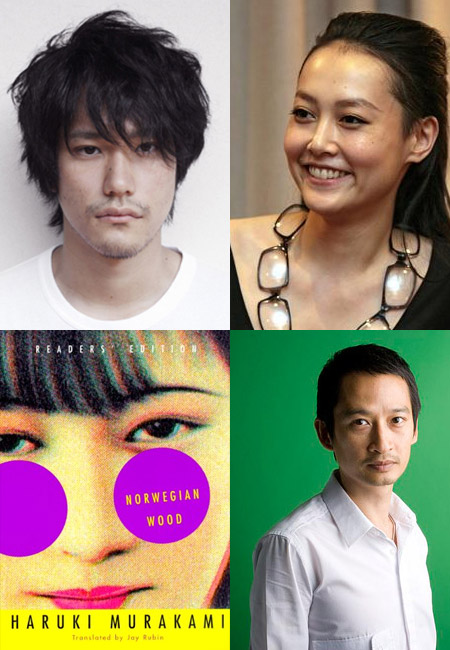 The solidly "young cool" reputations of actors Matsuyama Kenichi (24) and Oscar nominee Kikuchi Rinko (28) no doubt helped them land the lead roles in the movie version of "Noruwei no Mori" (Norwegian Wood). The first big screen adaptation of Murakami Haruki's legendary 1987 novel was first announced last summer. Under the eye of Vietnamese-born French director Tran Anh Hung, filming of winter scenes already took place back in February and full-scale filming is set to start on June 1. The novel's protagonist is a businessman looking back on the loves and losses of his university days in the 1960s, when he was more interested in American fiction than in the student radicalism of the time. It has sold over 9 million copies in Japan alone and has been translated into 36 languages. But Murakami is famously protective of his work and has only ever allowed one to be put on celluloid – a movie version of the short story "Tony Takitani," directed by Ishikawa Jun and starring Ogata Issei and Miyazawa Rie, was released in 2004. Like that duo, Matsuyama and Kikuchi bring some serious acting chops to the high-profile project. But Murakami mainly agreed to the adaptation as he is an admirer of Hung's work. He has enjoyed a solid reputation since his 1993 debut film "The Scent of Green Papaya" won the Camera d'Or in Cannes and was nominated for an Oscar. He recently completed the Hong Kong thriller "I Come With the Rain," with Josh Hartnett, Lee Byung-hun and SMAP's Kimura Takuya. Hung said he first read Murakami's novel in French in 1992. "I was touched by the spirit of youth, longing and radicalism of the main characters. I wanted to put their anxieties, fears and weaknesses on film." The movie also features the acting debut of teenage "ViVi" fashion model Mizuhara Kiko (18) in a key role. Filming is expected to finish at the end of August and the movie is scheduled for release in the autumn of biaxin.
Incidentally, the movie brings Matsuyama and Kikuchi together for a second time. His recently revealed romance with actress Koyuki (32) blossomed during filming of the new big-screen manga adaptation "Kamui Gaiden." But Koyuki only landed the heroine role after original choice Kikuchi was injured on the set.
• In the latest development of her turbulent life, enka singer Matsubara Nobue (47) yesterday underwent a successful kidney transplant. Doctors decided the operation was necessary as her own kidneys had deteriorated to the point where they were only working at about 2%. She was admitted to hospital earlier this month after a blood relative donated a kidney. Matsubara debuted in 1979, and a Japan Record Taisho best newcomer award launched her on a successful career. But in recent years she's had nothing but heartache. Her ¥300-million home was seized in 2003 after she failed to pay income taxes. That in turn led to a divorce from her husband, who was also the president of her management agency. The following year, her office was broken into and ¥5 million stolen. Her health problems, for which she had taken diuretics since she was a child, worsened in 2007. Last summer, she began undergoing dialysis several times a week, which had an adverse effect on her performing career.