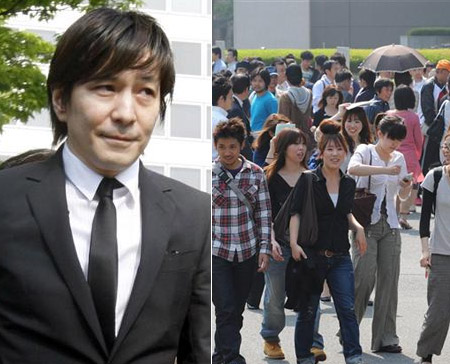 Musician and producer Komuro Tetsuya (50) has been found guilty of fraud but escaped with a suspended prison sentence, as his case drew to a close this morning. Crowds, including many young people, gathered outside the Osaka District Court for news of the verdict in one of the biggest celebrity trials in years. Komuro was given a three-year prison sentence, suspended for five years. Judge Sugita Munehisa said, "I can't say I have no sympathy for the series of misfortunes that led up to this case, but they did not justify the actions that followed. While the crime was haphazard, it was also very devious." But he said the judgment was offset by the fact that Komuro has shown remorse and the money has been repaid. Prosecutors had sought a five-year prison term, but by law three years is the longest sentence that can be suspended. Komuro was arrested last year for selling the copyrights to hundreds of his songs to a private investor, though the rights belonged to the Avex record label. It was revealed during the case that Avex Group Holdings president Matsuura Masato (44) later paid the plaintiff back his ¥500 million, plus ¥148 million in compensation and damages. Komuro and his wife Keiko have been living in the home of another Avex executive since his release on bail.
Earlier stories:
Komuro Tetsuya Faces Arrest For Fraud (Nov 4, 2008)

More Details on Komuro Arrest (Nov 5, 2008)

Komuro Court Case Opens (Jan 21, 2009)

Avex Boss Bails Out Komuro (Mar 13, 2009)
• Lots of maternity news over the weekend. As yesterday was Mother's Day, there was an awards ceremony for the winners of a poll to choose the country's best celebrity mothers. Among the recipients were actress Yasuda Narumi (43), who has three children with comedian Kinashi Noritake (47), and singer Imai Eriko of the group Speed. Meanwhile management for actress Maki Yoko (26) said yesterday that she recently gave birth to her first child. She and former actor Katayama Reo (27) married last November. And actress Nishida Hikaru (36) revealed that she is expecting her second child in November. She married a trading company executive in 2002 and had her first baby in the U.S. in 2006. They currently live in her husband's hometown in the Kansai area.