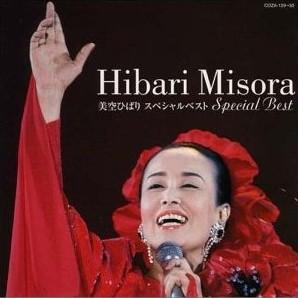 Twenty years after her death, legendary postwar singer Misora Hibari (1937-89) is to release a new song. Recorded in 1968, "Au wa Wakare no" is a sad ballad of separation that resembles one of her biggest hits, 1966's "Kanashii Sake." Misora's son, and the president of the Hibari Pro company, Kato Kazuya (37) speculated that the similarity may have been the main reason it was never released. The song will be broadcast for the first time on a TV Asahi special tomorrow night. And it will be available only from the Kyoto Arashiyama Misora Hibari-za theater, where visitors can create their own customized CD of up to 20 tracks from the 559 singles Misora released over 40 years. From October 1, the newly released song will be added to the list, which extends from "Kappa Boogie Woogie" (1949) to "Kawa no Nagare no You ni" (1989). The music for "Au wa…" was written by Kouzu Yoshiyuki (76) and the lyrics by actress Nakamura Meiko (74), a couple who were among Misora's closest friends. They wrote a total of 11 songs for her, of which this song is the only one never to have been released.
• Korean talento Yoon Sona (32) gave birth to her first child in Seoul yesterday. A regular on the Japanese variety TV circuit for several years, she married a Korean businessman in September 2006 and has lived in Seoul since. She plans to return to work within the year.
• Comedy duo Tunnels (profile) and singer DJ Ozma have teamed up to produce the new female trio Yajima Biyoshitsu. They announced yesterday that the trio is made up of Nevada native and former nude dancer Margaret (36) and her daughters Naomi (17) and Strawberry (11). The girls' father is said to be a Japanese beautician by the name of Yajima, and the trio came to Japan in the hopes of finding him. They make their CD debut on October 29 with "Nihon no Mikata – Nevada Kara Kimashita." A closer look reveals that the trio look remarkably similar to the producers…but Ozma insisted, "We scouted them in Las Vegas. They sing and dance even better than Exile and speak Japanese as well as (American enka singer) Jero." Tunnels have a good musical track record, having released many hits as a duo and leading the group Yaen. But they caused a scandal back in 1991 when they appeared in underwear on NHK's live New Year's Eve show "Kohaku Utagassen." Ozma's main claim to fame is the even bigger scandal he caused when he and his backing dancers appeared on last year's Kohaku wearing body suits that had the nationwide audience thinking they were on stage nude. Asked about his expectations for the new trio, he said "If it doesn't sell a million, I'll retire from showbiz!" The trio are set to make their first appearance on a "SMAPxSMAP" special and on TBS's "Utaban" on September 29. Their debut song can be heard from today on the new TV commercial for Lotte's Spash chewing gum.
• It was revealed today that NHK announcer Yoshiba Yumie (34) recently married an employee of a sports management company. Yoshiba is a presenter on NHK's "Sunday Sports" show.