Coffee Shops in Japan
By Jaakko Saari (Hanami Web)
The best places to get your caffeine fix
Doutor Gourmet Coffee Shop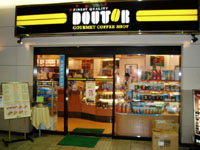 There is an average variety of coffee in Doutor Gourmet Coffee shop. The quality of coffee is good, the crew is trained, and the atmosphere of Doutor is pretty nice. The interior decoration is pretty nice too, the walls are decorated with modern designs and the feel of the place is really pleasant. BGM is little loud but okay.
Doutor has the best selection of sweet foods. They have many delicious cakes as well as hot dogs, sandwiches and small pizzas. Also the customer service is good here. The cost is average, not as high as in Starbucks, but not really cheap either.
Then the minus come again from the poor air quality. Too much smoke. And Doutor gets the styrene warning as well - both the cups and caps are made of it. Unlike Excelsior, at least Doutor cups don't have the drinking hole which is known to be extremely bad for getting styrene inside your body.
---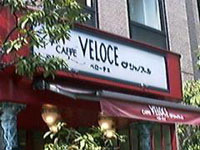 Veloce is the winner here. They have a variety of sandwiches that taste great and also beverages other than coffee. The atmosphere of Veloce is very nice, has a bit of an American and European feel and is very spacious. Interior decoration is simple and modest, not too much decoration. And there are usually large windows which you can sit at and watch the world go by outside.
And the cost is very cheap, too. Veloce is the cheapest of these reviewed coffee shops and has great quality. The BGM is something pretty easy to forget but it didn't bother me. Also the coffee shop is pretty quiet despite the fact that it's very roomy inside.
Well, nothing is absolutely perfect and the thing about Veloce is that for some reason their crew seems to be trained to avoid even the slightest hint of a smile. The first time I went there I felt intimidated by their serious faces. But the crew is otherwise well trained in various brewing techniques and they serve you well.
Coffee tastes fresh but simple here. There are no fancy things like in Starbucks but everything you buy here ought to be fresh. Orange juice is great, too.
It's great to find another place that doesn't have styrene cups and which is also non-smoking. But just like in Starbucks, the caps are also made of styrene, but you can always leave them off. It seems Veloce is seriously competing with Starbucks in quality. And Veloce is the cheapest of the coffee shops.
Myself, I loved the minimalistic, modest feel of the place, despite its spacious interior. I recommend to test it for yourself.
---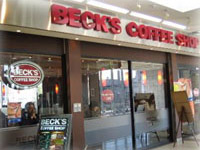 Poor BECK'S. I cant find any reason to enter there. The coffee is barely mediocre, crew isn't that well trained, it's a noisy and stinky place. If they served Japanese tea here, they would probably give you a tea bag and hot water. The background music is some kind of R'n'B, or American Pop such as Spice Girls, and it's blasting away really LOUD.
This place is not good for meeting someone, either. Unless of course, you really dislike the person.
BECKS is a strange place since it's something between an American fast food chain and a coffee shop. It seems to be like a place for young people go to chat but it's far too noisy to chat there. OK, you can get some burgers or sandwiches there, but the sandwiches at least proved to be not so great.
If you want a hamburger with your coffee, you might as well go to Macdonald's, at least you know what to expect. And in Macdonald's you don't have to listen that ugly, sticky chewing gum pop.
BECK'S also uses dreadful styrene cups with styrene caps - leaving you thinking if the owners care about health matters and carcinogens at all. If you don't get poisoned by the smoke here (or teeny pop), don't worry, the styrene from the cups will get you.
If the air could have been better, I could have given one tsuru out of pity. But I have a limited amount of those in my pocket - so no way.
---
Related articles on: