Coffee Shops in Japan
By Jaakko Saari (Hanami Web)
The best places to get your caffeine fix
Japan has probably the world's widest variety of coffee shops. These pleasant places, known as kissaten in Japanese, offer a nice chance to chill out in hot summertime, have a break in the middle of a busy day. There are many tastes as there are people in Japan - where supply meets demand.
As you probably know, coffee is hardly the traditional drink of Japan. There are still lot of people who really prefer tea, especially the green variety. Coffee was first brought to Japan at the end of the 19th century. The first modern coffee shop was opened in Tokyo's Ueno in 1881. The early coffee shops followed European trends pretty much, especially late Paris designs.
Today coffee shops in Japan keep evolving, following the trends to satisfy their customers. Aside from the large chains such as Starbucks, BECK's, Doutor, Veloce and Excelsior, there are also thousands of private coffee shops. These shops can often beat the chains by having better tasting coffee, sandwiches, interior decoration, or just more personal service. I recommend not to stick with Starbucks too much, although it has nice coffee and crew.
There are many ways to evaluate coffee shops. Myself, I put emphasis on whether a person can choose whether to smoke or not and also on the interior decoration, coffee and availability of cakes and bagels.
Here is Hanami Web's Japanese coffee shop evaluation:
---




In Japan since 1995, Starbucks concentrates on quick and friendly service and also having their crew trained well for different brewing techniques. The product of Starbucks is first and foremost the Coffee. They have many different hot and cold beverages. Especially sweet coffees with flavors. They're lacking on the sandwich and bagel side though.
One of the best things about Starbucks is that the crew is really friendly and smiles. There is something natural about the behavior of the crew. Sometimes they even talk with their customers, which I appreciate a lot.
The interior is a bit daily and ascetic but it varies from place to place. Some places even have real living room sofas. There are some Brazil & South America-related designs which seem to be designed by the owners of the franchise. Music is latin mix stuff that goes down as easily as the franchise latte served here.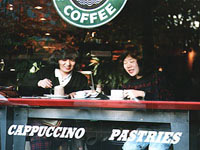 Starbucks seems to be a non-smoking chain - the air is good and well air-conditioned here. Often you can see Starbucks coffee shops which also have tables outside. Smoking is usually only allowed outside. For those who feel bad about blasting air conditioners, this is a good plus.
Minus comes then from the poor selection of bagels and other foods and their very high price. Putting aside the cupcakes, people usually just drink coffee here. Another minus is the high prices. As high as they are, Starbucks should have something special to attract customers, or they should profile themselves as a high class place only.
At Starbucks you can choose whether to drink your coffee from a Starbucks mug or a paper cup, with or without its styrene cap. For those worried about the safety of styrene, a known carcinogen, Starbucks cups themselves are safe - but the cap is still made of this troubling material. But you can always choose to drink your coffee from the mug.
---
Excelsior Caffé (Doutor company)


Excelsior is a brand of the Doutor company. Just like in Doutor, this is a smoking cafe. Although there are both non-smoking and smoking tables, who cares since the smoke gets everywhere. Air conditioning isn't so good here and in terms of quality of air, Excelsior is the worst one of all.
Excelsior doesn't have nearly as many drinks as Starbucks has. The foods have medium variety. Customer service is good but not as good as in Starbucks. Excelsior coffee is a place for young people who like to smoke, or at least don't mind if others do, and spend a long time in coffee shops reading books. Background music and atmosphere is little a bit loud so this place is poor for social conversation.
Interior design is cool. They have modern very cozy furniture, sofas and the BGM has a real variety.
Minus comes from the poor air quality and the poor coffee menu. Also the customer service should be more friendly. I have never seen crew talking with their customers.
Styrene warning - both cups and caps are made of styrene in Excelsior cafes. I recommend to drink your coffee inside only if you can stand the smoke. At Excelsior you do have a choice - you can choose whether you will drink the carcinogens or breathe them.