Actors & Actresses
Yonekura Ryoko
(Yokohama, Kanagawa Prefecture, 1975- )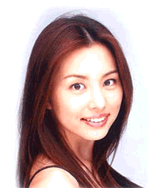 These days, former ballerina Yonekura Ryoko is one of the most visible women on TV and in fashion. She and her most obvious rival Kikukawa Rei have dominated the world of glamour, appearing in dozens of TV commercials and gracing the covers of countless magazines. They are both members of the Oscar Productions agency, which represents many of Japan's most beautiful stars. Yonekura has won a slew of (admittedly meaningless) awards with titles such as Miss Brilliant, Jewellry Best Dresser, Nail Queen, and Best Leather-nist!
Yonekura made her move into the fashion world at the age of 17 when she was awarded a consolation prize at the National Young Beauty contest in 1992. Over the next seven years she built up quite a reputation as a fashion model, campaign girl and in TV commercials. In 1999 she announced her intention of getting into acting. She made her debut the following year in the TBS drama Koi no Kamisama (God of Love) and has since appeared in one drama after another almost non-stop.
She made her movie debut in Damboru Hausu Garu (Homeless Girl) and in 2002 she co-starred with Kikukawa in Gun Crazy. The duo played a pair of "gun-toting killer babes". Enough said. Her 2002 drama series Seikei Bijin (Artificial Beauty) also aired in the US. The series dealt with the curently hot topic of cosmetic surgery.
Yonekura maintains her interest in ballet and other forms of dance, such as bossa nova and salsa. These certainly seem to suit her bubbly and dynamic personality and she seems to be making this kind of acting role her niche. She may not win any awards for acting but she's always got that Best Jeanist trophy to put on the mantelpiece.
---
Links