Fashion Designers
Takada Kenzo
(Hyogo Prefecture, 1939-2020)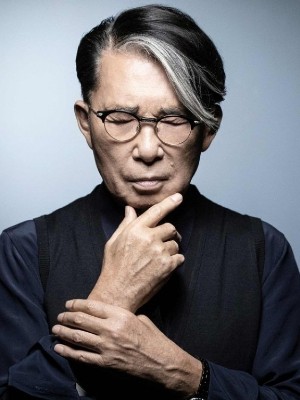 photos:
Kenzo, Spring 1999
©firstVIEW 1999.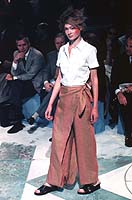 Takada was one of seven children and developed an interest in fashion through reading the magazines of his sisters. Born in Himeiji City, Hyogo Prefecture, he quit Kobe University to try to become one of the first male students at Tokyo's Bunka Fashion College (Bunkafukuso Gakuin). His parents did not approve of his career ambitions and he had to work part-time in Tokyo to support himself while he did evening prep courses in design. After some six months, he was finally accepted to the prestigious college and the kind of determination that got him there was to serve him well in the future.
In 1964, Takada moved to Paris and started at the very bottom of the fashion industry ladder. After making enough contacts, he worked as a freelance designer and opened his first boutique 'Jungle Jap' in 1970.
Takada's first work borrowed heavily from traditional Japanese styles but it was his 'big silhouette' designs which drew worldwide attention. His designs made him something of a trendsetter for young fashion. In Japan, he is highly regarded as a pioneer who introduced Japanese fashion design to a world audience. Always very selective of his fabric, Takada in recent years has moved into the design of furniture coverings and household items. In September 1999, he announced that he was handing over the reins of his fashion house to his assistants.
Takada died at the age of 81 in September 2010 after having contracted coronavirus.