Sports Stars
Sasaki Kazuhiro
(Iwate Prefecture, 1968- )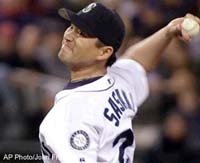 Sasaki Kazuhiro is known in Japan as 'Daimajin'. The name means something like 'Great Genie' and reflects Sasaki's ability to win just about any game he was brought into. Perhaps the greatest closer Japanese baseball has ever seen, this 193cm-tall relief pitcher truly dominated during his first ten years playing for the Yokohama BayStars (formerly the Taiyo Whales). He made it clear midway through his career in Japan that while his short-term ambition was to help get a Japan Series pennant for the BayStars, his true goal was to play in the Major Leagues.
The BayStars had a well-deserved reputation as being the perennial also-rans of the Central League, though in the 1990's they had some of the best players around, including 1989 first-round draft pick Sasaki and second-baseman Bobby Rose. Sasaki, with a great fast ball and an "unhittable" forkball, set a new saves record in the 1997 season and signed a new contract for 480 million yen, at the time the biggest in Japanese baseball. But they had to wait until 1998 before the potential was translated into a Japan Series pennant, with Sasaki winning the Central League MVP award. Now that his short-term ambition had been realized, his next target became to pursue his dream in the US.
He held the record for career saves at 229 (subsequently broken by Takatsu Shingo of the Yakult Swallows) and was ready for a new challenge. This dream was realized when he became a free agent and signed for the Seattle Mariners for the 2000 season. He continued to build on his solid reputation, winning the Rookie of the Year award that year with 37 saves (beating the previous record of 33). He got the save in the 2001 All Star game, when he played alongside Seattle teammate Ichiro.
When asked what he liked about the American game he said: "The style of baseball is different. Pitchers challenge hitters: power against power. The way they play in America is the way I feel the game should be played." And on how it feels to play in the Major Leagues: "I feel like a little boy again." But it was his wife and two kids that made him decide to turn his back on another big pay packet with Seattle and return to Japan for the 2004 season. He was welcomed back to his old Yokohama team, by now the worst team in the CL, and Sasaki himself struggled with a series of injuries.
He wasn't back in Japan long before his wife and kids were no longer priority number one. Sasaki divorced his wife, former talento Shimizu Kaori, in April 2005 and married pregnant actress Enamoto Kanako, considered a "high maintenance" type and 13 years younger than Sasaki. He took a lot of criticism from the media and fans alike and announced that it would be his final season. His final pitch in his hometown of Sendai was thrown to old friend Kiyohara Kazuhiro of the Yomiuri Giants, leading one of baseball's hard men to become teary at the plate.
It was announced in April 2006 that Kanako was pregnant again.
---
Links