Movie Directors
Ozu Yasujiro
(Tokyo, 1903-1963)
One of the masters of Japanese cinema, Ozu was already making the best films of his day before he turned 30. Having joined the Shochiku studio at the age of 20 as an assistant cameraman, he worked his way up to assistant director and debuted as a director in 1927. After starting with comedies, he moved towards a more serious theme, the breakup of the family under the pressures of modern society. His first great film, I Was Born, but... (Umarete Wa Mita Keredo, 1932) centers on two young brothers growing up in their new home in Tokyo and deals with tensions between work and family. It is a silent comedy but with serious overtones. In fact, Ozu didn't making his first non-silent film until 1936 and resisited the move to color until 1958.
Although born in Tokyo, Ozu grew up in his father's hometown of Matsusaka while his father worked in the capital (a situation common in Japan). Their relationship was central to the autobiographical There Was a Father (Chichi Ariki, 1942), which Ozu lists as one of his favorites.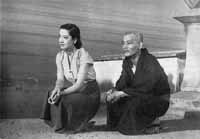 Hara Setsuko and Ryu Chishu in Tokyo Story (Tokyo Monogatari, 1953). Ozu's quiet, understated stories about family life and relationships reached a peak in this film. His usual theme of the father-child relationship is expanded to include a critical look at the damage to family life caused by post-war society. An elderly couple come from their rural hometown to visit their children in Tokyo but find their presence to be a burden. The simplicity of the story belies the depth of insight into such human experiences as the sorrow of old age and the joys of parenthhod.
---
Links