Fashion Designers
Maruyama Keita
(Tokyo, 1965- )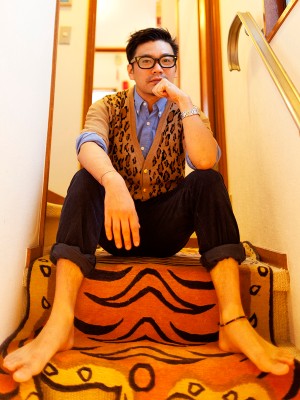 photo:
Keita Maruyama
Spring-Summer 2012
©TokyoFashion
A graduate of Bunka Fashion College (Bunkafukuso Gakuin), Maruyama has had a fascination with fashion since childhood. After working as a freelancer designing clothes for entertainers, he debuted as an independent designer in 1994 and has his first show in Paris three years later.
Maruyama's designs are quite different from those of the older established Japanese designers. In this sense, he is not so readily recognized as a Japanese designer in Europe. He uses more obviously Oriental motifs and "introduces the essence of the kimono" into his designs. He would like to increase the popularity of the kimono among young Japanese, and launched a kimono collection in the autumn of 1999, although he is aware of its limited practicality in modern life.
Maruyama's clothes are designed to "end up in an antique shop rather than a museum", being passed on rather than simply consumed. Abroad, his designs are available in the US and Europe as well as Hong Kong and Taiwan.
---
Links