Sports Stars
Inamoto Junichi
(Kagoshima Prefecture, 1979- )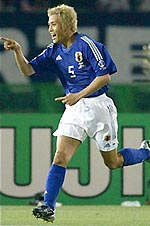 One of the stand-out performers on the Japan team when the country co-hosted the World Cup in 2002 was Inamoto Junichi. With his peroxide hair, baby face and constant hustle he won many new fans both at home and abroad. Two well-taken goals also helped his country do better than many people had predicted. As it turned out during the course of the tournament, "Ina" had good reason to put on an impressive performance as it was leaked to the media that his club future was in jeopardy.
Inamoto came up through the ranks with J-League founding team Gamba Osaka, though he had been playing since he was six. He joined the Gamba Junior Youth team when he was 13 and two years later made the national under-16 team. At the age of 17 years and six months, he became the youngest J-League player and a month later its youngest goalscorer. And all this before graduating from high school.
As a talented 21-year old, Inamoto became the first Japanese player to transfer to the English Premier League in 2001. Many in the media claimed that the defensive midfielder's move to the London club Arsenal (said to have been a one-year loan but rumored at four million pounds) was designed to cash in on the huge merchandising market in Asia. No doubt, Inamoto was keen to dispel the rumors but he had very few chances to do so. He made no starts in the league and only had a combined total of five outings in the Champions League and Worthington Cup.
There were stories of his depression at being constantly left on the sub's bench. At the time he said, "I believe I have the qualities to make it over here. I have watched the Premier League from Japan and obviously I know that it is very physical. But is also high quality and I believe I have the qualities to make it over here." The fact that this statement was most certainly not made in English reveals another common problem facing Japan's sports stars abroad.
During Japan's successful World Cup run, Inamoto awoke one morning to hear on the radio that he had been dropped by Arsenal. Manager Arsene Wenger, who had a spell in Japan in charge of Nagoya Grampus Eight, was in town as a commentator and no doubt the matter was discussed face to face. Shortly after, he was transfered to Fulham, a much smaller London team but a Premier League side nonetheless. He later had a spell at West Bromwich Albion before leaving England for the Turkish side Galatasaray in the summer of 2006.
---
Links