TV Stars
Iijima Ai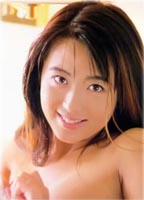 It's not the fact that she was a former porn star that made Iijima Ai stand out from the ever-changing gallery of pretty faces on TV. It's the fact that she was prepared to be very open and frank about what she'd been through and the relationships she had along the way. She was able to move on and build a career as a "multi-talento" to such an extent that many young TV viewers were not even aware of her colorful past.
Iijima (born Ishii Mitsuko in Tokyo) made her AV (adult video) debut in 1992, and was one of hundreds of young women who do so every year. She made over 100 movies, with titles like "Thank you for the f**k!" and "Used Panty of Sister in Law", becoming the biggest star in the business, and then proceeded to write a book about it. This was enough to have magazines clamouring for an interview. They knew that an "expose" on the inner goings-on of the porn industry would shift a lot of copies.
At the time, Japanese TV was going through something of a clean-up, reducing the number of late-night or even evening shows that featured semi-naked women to attract male viewers. But there were still some shows that stubbornly hung on to the format and Iijima became a presenter on one, Gilgamesh Night. It was the beginning of her move over to the more respectable side of the entertainment business. She quit the porn industry while still on top (so to speak) at the ripe old age of 20.
Through perserverance and hard work, Iijima gradually became one of the regular faces and a guest presenter on variety shows and even appeared on an education program on the conservative NHK public network. The best indicator of a TV personality's status is how often their face appears on screen and how many shows they feature on regularly. Iijima worked her way up to the rank of a senior "talento", and became a kind of big sister to the hordes of young women who arrived on the scene after her.
In 2001, Iijima caused a media storm with the publication of her memoirs. The provocatively titled Platonic Sex received huge media exposure and went on to be a bestseller, shifting over a million copies. It tells of how she was raped while in her early teens, driven away from home by the pressure from her parents to excel at school, had an abortion, got involved in the euphemistically named "enjo kosai" (dating for money) and finally entered the porn business. The book was adapted into a four-hour TV series and even a mainstream movie. This all served to make Iijima something of a heroine and role model for high school girls all over Japan. Not to mention extremely wealthy.
As with most stars who are most fondly remembered for their younger days, collector's items featuring Ai-chan will always fetch a premium. Examples include things like the trading card shown here. At the age of thirty, having established a respectable TV career and with many younger TV viewers unaware of her sordid past, 2002 saw the unauthorized release of a box set of DVD's of Iijima's old movies that sold like gold dust. The porn industry seems to have something of the Wild West about it and copyright is usually regarded more as the right to copy. But Iijima's production company filed for an injunction to halt the sale of the dirty DVDs and lawyers for both sides eventually settled the matter.
At the end of 2006, Iijima missed several of her regular TV show appearances due to health problems. The following spring, she confirmed that rumors of her impending retirement were true. She told fellow panel members of the TBS show "Sunday Japon" that she had simply had enough, that her body just couldn't take the workload anymore, and she had decided to quit. She officially retired on March 31, 2007 and there was much speculation about what she would do next. Rumors included her starting an IT company or moving to live in New York. Other porn actresses have tried to make the leap to mainstream TV, but with Ai-chan's strength of character and ability to take the abuse and make fun of herself, few if any are likely to succeed in Japanese showbiz as she did. But the final few months of her celebrity career also illustrated what a demanding business it really is.
It all came to a tragic end when Iijima was discovered dead at her luxury Tokyo home on Christmas Eve 2008. A friend found her body on the floor of her living room and rescue workers said she had been dead for several days.
Nudity has become something of a rarity on terrestrial TV these days but still fills the magazine racks of convenience store and bookstores. Japanese people on the whole have a pretty liberal attitude to sex and there haven't been any serious efforts to have such magazines moved to the upper shelves as in Western countries. But the late-night or even evening shows that featured semi-naked women to attract male viewers have all but disappeared in the last decade. But ironically, as Japan has developed a certain degree of self-consciousness about porn and sex, it has only been in recent years that publishers have been allowed to show pubic hair.
Entertainment News stories:
---
Check out our other profiles of Japanese actors and actresses