TV Stars
Dewi Sukarno
(Tokyo, 1940- )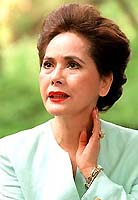 One of the most outspoken, and for many people probably one of the most hated, celebrities on Japanese TV is Dewi Sukarno. Usually referred to as Dewi Fujin (Madame Dewi), she can always be relied on to add a juicy bit of snootiness or slander to a variety show. The Japanese equivalent of Jacqueline Kennedy or Imelda Marcos, she's a vibrant and opinionated woman who has been at the side of a world leader, knows everyone worth knowing, and loves to tell you about it. In her own words, "I speak too directly. I can't speak diplomatically. I think people are afraid of what I am going to say."
Born Naoko Nemoto, she was working days in an insurance company and nights as a hostess at the Kokusai Club in Akasaka, a place for foreign VIPs. It was there that a fateful meeting with a powerful world leader changed her life. In 1959, at the tender age of 19, she left Japan to become the third of the nine wives of Achmed Sukarno, the president of The Republic of Indonesia. Her full married name was Ratna Sari Dewi Sukarno and the couple had a daughter, Kartika. Sukarno was ousted from power in 1967 and placed under house arrest the following year, where he remained until his death in 1970. After her husband's death Dewi became an international jet setter, living in Paris and New York before returning to Tokyo. She describes her time in Paris, with her usual modesty, "I was young, beautiful, I had a name, a certain wealth. People were so eager to invite me here and there."
In 1993, at the ripe old age of 53 she published a book of photos, many of them nude. The book was slammed in the mostly Islamic Indonesia for "violating eastern norms and insulting Indonesia's dignity" and was banned by the Attorney-General's office. Several years later, an Indonesian magazine published some photos from the book without permission. In 2002, Dewi testified in a Jakarta court in the property rights violation case. This was just one of several court appearances, on both sides of the dock. Most recently, she was ordered to pay damages to an actress she had defamed to the media.
She has certainly capitalized on her outspokeness. She has published several books, with titles such as "Allow Me to Say a Few Things" (2000), that slam Japan's lack of morals. She also has no qualms about criticizing fellow celebrities, something that is pretty much taboo. Her age and perceived social rank have afforded her a kind of special status that allows her to get away with things that not many others in the business can.
Though she may have been above the law in her heyday in Indonesia, this is not the case any more. In 2002, the Tokyo tax authorities ordered her to pay 50 million yen in back taxes. Her public response was that she left the running of her considerable business interests to her office. I guess it's not easy to make ends meet when you have seven staff to support!
---
Links