How to Create a Japanese Interior Overseas
The Japanese style is minimalistic-decorative, in which nothing overloads the attention and space is structured calmly and distinctly. Here you will never find a huge but reliable refrigerator in the kitchen or a living room overloaded with a heavy oak table. The Japanese style of interior design is one of the most popular ethnic varieties of minimalism. It's not surprising that when they leave and move to another country, everyone wants to take this feeling of beauty, peace, and tranquility with them.
A typical guest room in a ryokan, or traditional hotel. Futon bedding is stored in a closet during the day.
How to create your very own Japanese interior
The beauty and essence of an interior decorated in the original Japanese style is as follows. It follows the three fundamental principles of the Japanese worldview:
naturalness
practicality
comfort
The layout of a Japanese-style interior implies the actual and visual expansion of the available space. This effect can be achieved with the help of several techniques, which we will consider below. In general, this direction does not require special effort. It's enough just to observe the right color scheme and stick to minimalism when choosing your furniture.
If the apartment or house has a simple layout of the correct geometric shape, you can paint the walls of the rooms in warm colors, such as beige, cream, milk, etc. If you are lucky enough that the space command a beautiful view, you can incorporate windows as a part of the wall. This will create a visual effect of a smooth transition from the internal environment to the external one.
Separation into individual rooms is not welcomed in the Japanese interior. This style is guided by the principle of dividing the total area into functional components, or zones. The walls can be portable or sliding structures, covered with cloth or paper. This can also be done with screens, painted with subtle exotic patterns. A more acceptable and modern option would be sliding doors, as well as the placement of functional areas at different levels.
The colors used in the interior are also important. The most popular are white, black and red. Also, they can be slightly diluted with pastel colors. Colors, and especially Sakura or cherry blossom patterns are ideal for creating this style in any room of the apartment.
The main principle is not to overload the space with furniture. The Japanese use only the most necessary things. This includes having storage space or closets that reach to the ceiling, which serves to hide all everyday utensils from other people's eyes, low sofas, low curbstones and tables. Furniture should be extremely simple, without unnecessary details and with clear geometric lines and light colors.
Accessories for the house, such as bedspreads and blankets, should be light, also of pastel colors, necessarily made of natural materials.
For window curtains, use thin, airy fabrics.
Another characteristic aspect of the Japanese style is that it is necessary to avoid explicit vertical lines, pointed angles and objects above the normal line of sight.
It is extremely important at the design stage to properly set the lighting. Light must be scattered and soft. Do not install bright spotlights, daylight lamps, etc. The shapes of the various light fittings can be completely different.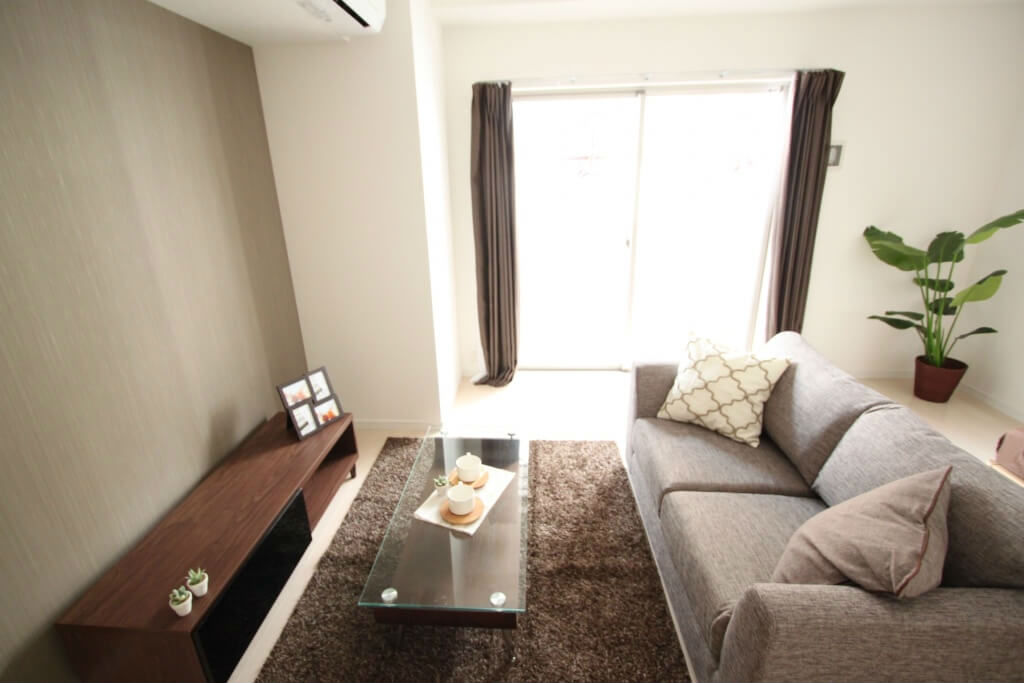 A bit tidier than most perhaps, but a typically minimalist Japanese living room.
Who will this style appeal to?
A Japanese-style interior is rather original and not suitable for everyone. This will definitely be a good choice for fans of Eastern philosophy, people who are modest by nature, who do not like pathos, excessive diversity and bombast, or connoisseurs of nature. This refined design is easily recognizable, it can compete with the luxurious European styles of decoration. Eastern philosophy, enclosed in such a dwelling, will give the inhabitants a sense of freedom and inner harmony. An apartment in the Japanese style is a haven for anyone tired of the hustle and bustle, from the dynamism of the metropolis.
An apartment designed in the Japanese style
will give comfort, create a mood, allow you to immerse yourself in the versatile world of Japan and relax, insulated from everyday cares.
---
Related content