Integrated Resorts in Japan and When to Expect Them
Japan, it seems, is about to change its gambling industry significantly. Even though still no legal casinos exist in the country, attempts to legalise gambling have been continuing for well over five years. It all began in December 2016 when Parliament passed a law promising to change the gambling industry in the country once and for all – the Integrated Resort Promotion Law.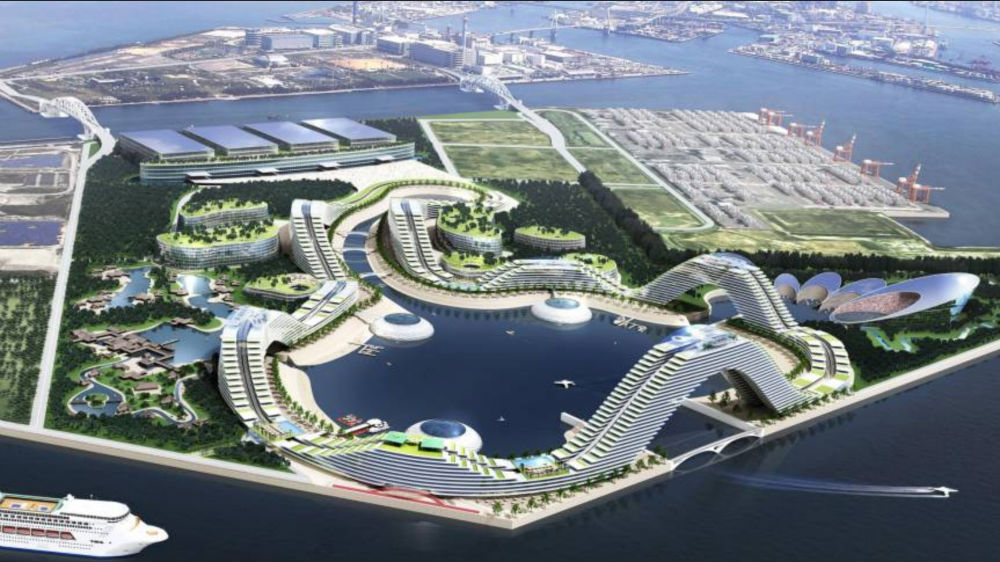 Image of an integrated resort in Kansai (image: Japan Times)
Thus, casino gambling is to become legal, but only if the gaming establishment is part of an integrated resort. As you may know, an integrated resort has to include an international conference all, various entertainment places and, of course, a hotel. Essentially, this means that no small casinos would be allowed in the gambling areas. On the other hand, these places must be strictly regulated and carefully planned. So, licensing them could turn out more problematic than Parliament expects. However, as was reported by Casino Guardian, the list of interested operators include Melco Resorts & Entertainment Limited and Genting Group.
Expectations rose after the passing of the first of the two bills that would legalise the establishment of integrated casino resorts in Japan, which captured the attention of established foreign casino operators. In other words, the country will probably experience a shift in its economic landscape.
The second bill—the Integrated Resort Implementation Bill—was to pass by the end of 2017. But legislators decided otherwise, ruling that regulation should target gambling addiction first. Thus, an addiction bill is now expected to be passed by the end of 2018.
For the time being, Parliament remains unwilling to comment on whether it will support a measure which is still largely unpopular among citizens for the second IR bill. Lastly, casino operators actively support the establishment of an industry regulatory framework. An adequate implementation, however, will further delay the passing of any bill presumably until next year.
If planned right, casinos will generate well over $20 billion in revenues yearly. However, odds that Parliament will get things right are still just about 60 to 40.
Nevertheless, taking into account the potential benefits of the legalisation of casinos, operators from all around the world including established names like MGM Resorts International and Las Vegas Sands Corp. are eagerly awaiting the necessary legislation that will permit them to build integrated resorts. Lawmakers are yet to reach a unanimous decision, which will undoubtedly influence operators' investment plans. There are many risks along the way, but if everything works out according to plan, operators will enter a market that has the potential to surpass the success of Las Vegas and Macau.

Japan's parliament in session, and proposed casino locations in Kansai (image: Japan Times)
And now the question everyone is asking themselves: When are we to expect integrated resorts in Japan?
Parliament is currently trying to pass the implementation bill during the session ending in June. The bill is drafted by the ruling Liberal Democratic Party, in coalition with another political party – Komeito. While LDP is eager to pass the bill, Komeito has shown some concerns on part of the gambling resorts. There were fears that Komeito's concerns would slow down the bill's progress, but those were proved unnecessary. According to latest news, the bill will be presented before Parliament on April 27. The information has been confirmed by a senior LDP legislator.
If the bill is not approved by the end of this year, the situation will become even more complicated. First of all, depending on the outcome of local elections, scheduled for next spring, the implementation bill may turn out too controversial to be dealt with in 2019. If so, the process of legalisation could be pushed further back. But even if LDP passes the bill this year, we are unlikely to see the setting up shop of any integrated casino resort in Japan for another five years.
As for the number of licenses, parties have just recently agreed upon a certain number. There were disputes on whether the granted licenses should be three or five. In the end, it was decided that Japan will welcome three integrated resorts nationwide. What is more, the lucky casino operators who are granted a license will be chosen by a regional government. In addition, a coalition of Japanese associates are likely to follow foreign operators' steps.
There is also ambivalence when it comes to the scale of the gaming industry which Japan is to welcome in the near future. As mentioned earlier, small-scale casinos will not be able to operate on the territory of Japan. Instead, the country will open doors to massive integrated resorts, supplied with luxurious hotels, entertainment and dining venues, conference rooms, and even shopping centres. Such resorts will generate many jobs and most likely influence tourism as well.>
In order to be able to generate more than $20 billion in revenues, Japan's integrated resorts must be big. To determine how big casino floor spaces should be, Parliament has taken into account the floorage in Macau's integrated resorts. So, Japan will likely welcome casinos no bigger than 15,000 square metres, and casino space must not exceed 3 percent of the resort's total floorage.
Interestingly, operators are planning a strategy for Japan's casinos, different from that in other gambling areas in Asia. Unlike in Macau, for example, where operators rely on foreign gamblers to generate casino profits, in Japan they will aim to target the local population which has a high per-capita income.
However, parliament is against letting locals gamble freely, and Komeito currently aims to restrict the access to casinos. No final solution has been made yet, but the discussion is centered around an entrance fee which locals will have to pay (6,000 yen or about $56). In addition to the fee, locals will also be forbidden from visiting a casino more than 10 times a month.
Locals are not the only ones who will have to pay, as casino operators are to face high gaming revenue taxes as well, analyzers say. Some say taxes could be so high that they could influence operators' plans concerning the scale of the venues they are willing to establish. Again, legislators have just recently agreed upon a number, and it has been decided that operators will have to pay a 30 percent tax on gross gaming revenues. In contrast, Macau has a 39 percent gaming tax, but no corporate tax.
Lastly, it is important to examine the most probable locations chosen to receive Japan's first integrated resorts. Apparently, Osaka is chosen as the location for one of the first integrated resorts in the country. Melco, a Hong Kong-based company which owns a number of gaming venues in Macau, has already expressed its interest in building an integrated resort on the man-made island of Yumeshima in Osaka Bay. The alternative, says Lawrence Ho Yau Lung, Chairman and CEO of Melco, is to build the gambling venue in the Umekita district in the Kansai city.
Lawrence Ho Yau Lung, Chairman and CEO of Melco International (Image: Melco Crown Entertainment Limited)
But Melco are far from the only ones wanting a piece from Japan's newest profitable industry. Sources say the Hong Kong-based firm is in contention with renown operators like MGM Resorts International, Crown Resorts Limited, Galaxy Entertainment Group Limited, and many more. With the planned granting of only three licenses, operators may have to use desperate measures to secure a position in Japan's gaming industry.
Why has the Kansai region near Osaka been chosen as an ideal location? Well, first of all, the area already houses various tourist attractions, like the ancient Buddhist temples around Kyoto and Universal Studios Japan. On top of that, the region is also popular among Chinese tourists, who choose Kansai as an elite shopping destination.
Of course, others have said that Tokyo should be the place for an integrated resort, as the capital houses the headquarters of some of the most renown brands in the world, including names like Sony Corporation and SoftBank Group Corporation.
And yet, most operators prefer the Kansai region, as it offers better entertainment possibilities, and for Melco, entertainment is a key element. When asked why Kansai in particular, the company's CEO commented that Tokyo does not need an integrated resort because the capital already has the best of everything. He went on to say that other great cities like London and New York, for example, do not need an integrated resort as well.
In addition, operators refrain from locating their future establishments in Tokyo, as the capital is notorious for its inflated land prices. According to a report from the Bloomberg Intelligence analysts Margaret Huang and Carmen Lee, the city's inflated prices can make operators reconsider, regardless of the size of the population and how well the city's infrastructure is organised.
In the end, one thing is certain – operators and municipalities will have to act hand in hand and agree upon concrete proposals concerning the introduction of one of the nation's upcoming integrated resorts.
What can be concluded from everything said is that Parliament still has a long way to go before the country's first integrated resorts set up shop. If everything works out well and legislators and operators manage to reach an unanimous decision on all matters concerning gambling in Japan, the country is expected to become the world's next major gaming centre.
---
Related content