KanjiSpy: Tokyo Street Signs
iPad app ends Tokyo streetwalking frustration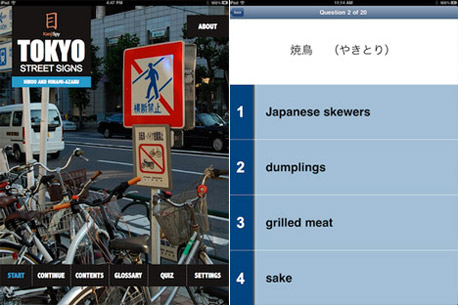 Frustrated that he could not understand common street, shop and office signs in Japan, Russell Willis - a British resident of Tokyo and professional educational software developer - decided to take the matter into his own hands and create a deluxe interactive iPad application that combines a virtual tour of one of Tokyo's most popular areas (Hiroo) and a way to understand the everyday kanji that confronts people as they walk down the street.
The result is KanjiSpy: Tokyo Street Signs, covering over 150 individual kanji presented in simple, easy-to-understand categories across more than 200 digital pages. Users can learn some of the most useful kanji signs there are to be spotted throughout Japan. The app includes five interactive mini-tours covering eight kanji categories, hiragana and katakana charts to help understanding, fabulous high-resolution photos of the area to make users feel as if you they really there, and an audio guide to help with pronunciation.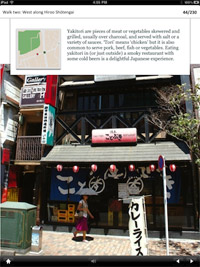 And when a user feels as though he or she has mastered all the kanji in the app, there is an interactive quiz to test how much has been learned.
This iPad app gives users a real sense of being in the real Tokyo and is a wonderful way to learn kanji. Willis commented: "I used to see the same damn signs every day, and they seemed to taunt me - but not now - it's amazing how empowered you become once you can read the signs around you. For those in Japan, I believe this should be a real help and for those outside of Japan studying Japanese, it will make all those kanji in the standard dry-as-dust kanji textbooks come alive - and give a fascinating picture of the real Japan."
KanjiSpy: Tokyo Street Signs can be purchased from the iTunes store for $4.99. The initial reaction to the app has been so positive that KanjiSpy plans to publish a range of apps over the next 6 months dealing with kanji appearing on advertising, in manga and on stations among other subjects.
Features include:
150 individual kanji in photos with...
Native pronunciation audio guide for each kanji
Hiragana reading, romaji reading, English definition and literal English meaning for each kanji
Hiragana and katakana charts
Real examples of the kanji in high-resolution photos
Multiple-choice quiz in both English-Japanese and Japanese-English formats
Kanji categories include: Public Places, Shops and Offices, Restaurants, Days and Times, Numbers