Death, Take Note
By Marri Lynn
The mysterious manga author Tsugumi Ohba's brainchild has taken Japan by storm, and the waves are now lapping on western shores. Death Note provides suspense and psychological thrills woven with mythological touches. Although touted as a shonen manga, a comic aimed primarily at young boys, Death Note's exciting premise and twisting storyline easily appeals to a vast audience. To date, the collected eleven volumes have sold an estimated 18 million copies.
The author of Death Note has not stepped into the spotlight despite the manga's rising success, choosing to remain a silhouette in the background. Some speculate that the name is simply a nom de plume for an author with credited fame for previous works. Certainly the lightening sensation Death Note created when its first part was published in December 2003 in Shonen Jump magazine is difficult to attribute to a debut mangaka. Its first release blew past the one million sales mark faster than any Shonen Jump serial ever before. The name Tsugumi Ohba itself is ambiguous, being a name that can belong to a male or a female. Some suggest that Tsugumi Ohba is a pen name of Hiroshi Gamou, creator of Tottemo Luckyman. Another hypothesis is that the name belongs to Yuuko Asami, the Shonen Jump magazine artist of Wild Half and other titles.
The intrigue starts when Light Yagami finds a notebook that has fallen from the shinigami realm. The idea of shinigami, or 'death gods', have been used in other manga and anime series such as Yami No Matsuei and Bleach, and the interpretation of the appearance and roles of these death-gods is as varied as the manga world itself. Tsugumi Ohba's shinigami appear as monstrous creatures only to those who possess the Death Note, a notebook carried by the shinigami on which to write the names of humans ready for death. The Death Note itself comes with a long list of rules for its use, though the penalties for a human who uses it are more ambiguously stated: "No human who uses the Death Note can go to heaven or hell." Despite that warning, Light becomes 'Kira', and embarks on an attempt to purge the world of evil to usher in a utopia that his justice will rule.
The story blends investigative action with supernatural elements into a realistic, hard-edged setting. Tsugumi Ohba's storyline is designed to absorb any reader who picks up the first instalment. The high-stakes intellectual manoeuvring between the two main characters is a welcome reminder that conflict in manga needn't be expressed by swords and fists. With less purely explosive action than is usually expected of a shonen manga, Tsugumi Ohba takes the reader on a swerving path through risk and deceit that's nonetheless thrilling.
To Tsugumi Ohba's riveting narrative, artist Takeshi Obata lends his characteristic style, already well recognised from his work on Hikaru No Go. The realism of his art suits the noir atmosphere of the manga, while it still manages to cater to the audience's stylistic expectations, and keep the eye engaged through scenes heavy with dialogue.
Fans of the manga are now lucky enough to see the series come to life in many ways. Konami quickly produced an anime to ride the wave of the manga's success, which aired just recently on Nippon TV, on October 3rd. Madhouse animation studio, known for Trigun, Vampire Hunter D: Bloodlust, and CLAMP's X and Tokyo Babylon, among others, was in charge of the project. Tetsuro Araki directed the talented and experienced star seiyu (voice actors), with Kappei Yamaguchi as L, and Mamoru Miyano as Light Yagami. Shidou Nakamura voices Ryuk, the shinigami attached to Light by his possession of the Death Note. The music group Nightmare provided the opening song "The World", as well as the ending song "Alumina."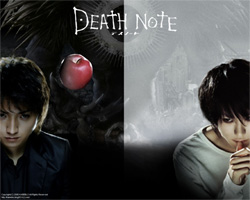 Before the anime aired, a live-action Death Note movie entered theatres on June 17th, 2006. It skyrocketed to the top of the box office, easily bumping Japan's previous #1 movie, The Da Vinci Code out of place. Although the familiar Warner Brothers studio produced the film, and the Red Hot Chili Peppers' song "Dani California" featured in it, it is still uncertain when precisely the film will be available to a North American audience, if at all. The second live-action Death Note movie, called Death Note: The Last Name is following the premiere of the animated series, scheduled for release in Japan on November 6th of this year. It will star Tatsuya Fujiwara as Light Yagami, and Kenichi Matsuyama as L once again.
In the country that gives us so many of our video games and the very consoles we play them on, it was almost inevitable that Death Note would work its way to the final frontier after being produced as manga, anime, and two live-action movies. A video game called 'Jump Superstars' has been produced in Japan for the Nintendo DS, featuring Light Yagami as one of the many playable characters taken from the pages of Shonen Jump magazine. And those who prefer the calmer entertainment of curling up with a good book will be heartened to know that suspense author Ishin Nishio has produced a novelization of the series, similar to what he did for CLAMP's xxxHOLiC. Of course, it can presently only be enjoyed in Japanese.
With such popularity to its name in Japan, North American fans can cross their fingers and hope that more than the manga will make its way westward. All 108 chapters will soon be on North American shelves, thanks to VIZ Media. Every New Year in Japan, temple bells toll 108 times to welcome in the spirit of the new year. We'll have to wait and hope that Death Note's 108 chapters will serve to welcome the horror series that's engrossed Japan onto our western screens.
---