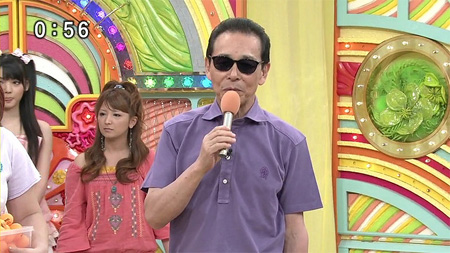 A Japanese TV institution is coming to an end. On the Tuesday afternoon edition of "Waratte Iitomo" (It's Okay to Laugh) comedian host Tamori (real name Morita Kazuyoshi) confirmed rumors that the live studio show will air for the last time next March after 32 years on the Fuji TV network. The show is broadcast with a live (and almost entirely female) audience from Studio Alta next to Shinjuku station in Tokyo every weekday, with highlights and outtakes shown on Sundays.
The show features regular celebrity co-hosts who rotate during the week. On Tuesday, they included SMAP member Nakai Masahiro, who brought up the rumors and had them confirmed by Tamori.
The very first show was aired on October 4 1982, when the special "Telephone Shocking" guest was pop legend Sakurada Junko. The show is what established Tamori as one of the best known faces in the nation.
On April 5, 2002, Tamori set the Guinness World Record for the longest continued hosting of a live television program with the show's 5000th edition. Tamori, with his trademark sunglasses (worn to conceal an eye injury suffered many years ago) is one of Japan's trinity of top television comedians, along with Kitano "Beat" Takeshi and Akashiya Sanma.
See the Japan Zone profile of Tamori.