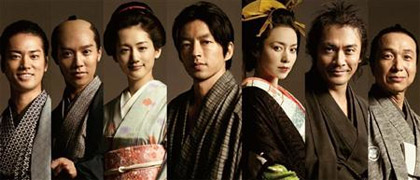 TBS announced yesterday that it was planning to re-broadcast the popular and critically lauded drama series "Jin." And in what is described as a first for any network, it will air the repeat showing during prime time. The series, which with 30 top awards has won more domestic and international recognition than any other TBS drama, was originally aired in the autumn season of last year. A "director's cut" of the full 9-hour series will be re-shown in two parts from 7pm on December 27-28. A sequel is planned for next year's spring season.
"Jin" is the story of a brain surgeon (Osawa Takao, 42) who finds himself transported back in time to the late 1860s and the end of Edo era. Last December's final episode of the series had an average audience rating of 25.3% in the Kanto region, the highest figure for a drama series in 2009. Last month it won four of the top prizes, including best serial drama, at the Tokyo Drama Awards. It also took a top prize at the Seoul Drama Awards in September and a Buyers Award at Cannes last month.
Young Actors Get Big Break
Young actors Toda Erika (22) and Miura Haruma (20) have been named to the lead roles in an upcoming Fuji TV romantic drama series. The pair will play the roles of young school teachers in "Taisetsuna Koto wa Subete Kimi ga Oshietekureta," which will air in the highest profile prime time spot, Monday nights at 9pm.