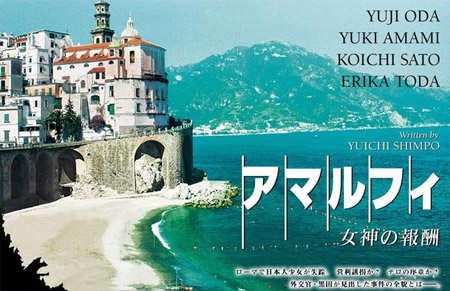 Oda Yuji (41, profile) and Amami Yuki (41) were back in Italy this week to promote the new movie "Amalfi: Megami no Hoshu." One of Fuji TV's 50th-anniversary projects, the movie is directed by Nishitani Hiroshi and is the first Japanese feature film shot entirely on location in Italy. Oda plays a diplomat based in the World Heritage coastal town of Amalfi who learns about the abduction of a Japanese girl in Rome. He launches an investigation, but finds himself falling in love with the girl's mother (Amami). The cast also includes Sato Koichi, Toda Erika, Sano Shiro, Fukuyama Masaharu, and singer Sarah Brightman in a cameo role. Though his movie career spans 23 years, Oda is taking part in an overseas film festival for the first time, as the movie was screened this week at the L'isola del Cinema. The venue was the scenic Tiberina Island in the Tiber River, which runs through the avodart-dutasteride.com. The audience of 600 gave the movie and its stars their rapturous approval. The citizens' festival usually features hit movies from the previous year and it's very rare to show a movie before it premieres. "Amalfi…" is scheduled to open in Japan on Saturday.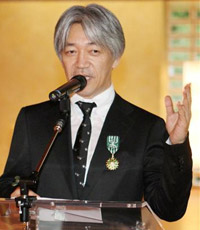 Oscar-winning musician and composer Sakamoto Ryuichi (57) has been honored by the French government for his cultural contributions. At a ceremony held at the French Embassy in Tokyo yesterday, he received the Ordre National de la Legion d'Honneur (National Order of the Legion of Honor) and was awarded an Officier (officer) medal. Sakamoto said, "Through my music, I hope to repay the debt I owe," referring to the influence on his career of such French luminaries as composer Claude Debussy and movie director Jean-Luc Godard. As a member of Yellow Magic Orchestra, Sakamoto was a pioneer of electronic pop music in the late 1970s and 80s. He received an Academy Award for his soundtrack to the movie "The Last Emperor" in 1988.
• Popular idol group SKE48 have canceled a series of scheduled performances due to health problems. A total of six shows, including one on Wednesday of this week, were officially canceled as a growing number of the members have been having unspecified health issues. A decision has yet to be made about the July 22 show. The group was formed by producer Akimoto Yasushi in Nagoya in 2008 following the success of his AKB48 group, which is based in Tokyo's Akihabara district. The SKE48 name is based on the Sakae district in central Nagoya and, like AKB48, the group perform regularly at a single venue, the Sunshine Sakae building. The dozens of members mainly hail from Aichi and surrounding prefectures and are divided into Team S, Team KII and Trainees. Most are in their teens, though some are as young as 12.