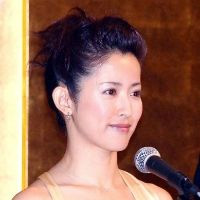 Talento Eguchi Tomomi (39) suffered a nasty accident while filming a TBS variety show yesterday. She was riding a 125cc buggy bike at the Nasu Buggy Park in Tochigi Prefecture when she took a spill, suffering a blow to her lower back and damaging her kidney. She was taken by ambulance to a local hospital where she underwent surgery. She has been told to take two weeks complete bed rest. Eguchi is married to talento Tsumami Edamame (49).
Also yesterday, actor Ichinose Hidekazu (32) broke his right leg while filming a drama series for NHK. The accident happened as he was shooting a scene where he jumped from a six-foot high wall. He has a supporting role in all episodes of "Natsu Kumo Agare", due to air from June 8. But as he has already completed most of his scenes, production is unlikely to be affected.
• Popular actress Fukada Kyoko (24) has been romantically linked with actor Sainei Ryuji (25), according to the latest issue of weekly magazine "Friday". The pair were spotted holding hands while reading magazines in a Tokyo convenience store earlier this month. Sainei plays the Deka Red character on the popular action hero series "Tokusou Sentai Dekaranger" and appeared with Fukada on her TV Asahi detective drama series "Fugoh Keiji".
• Actress and former pro wrestler Noumi Kayo (30) has married a member of dance unit PaniCrew. She and Horiuchi Kazuyoshi (32), known as Hori, announced yesterday that they tied the knot on April 15, an auspicious "taian" day in the Shinto calendar. They bare planning a wedding and reception in the autumn. They had been dating for about five years, according to a mutual friend. But as relationships are basically taboo for active wrestlers, they had to keep it under wraps until Noumi retired from the sport in April 2004. With her slender build and good looks, she was a big draw in the wrestling circuit. She has still to make much of a name for herself as an actress as she has appeared mostly in theatrical productions.
• Visual-kei rock band Shazna have made their comeback after seven years. Led by the no longer cross-dressing Izam (34), they performed their new single "Kokoro" at an event in Tokyo yesterday. Izam also talked about his new son, born on April 17. He is married to talento Yoshioka Miho (27).