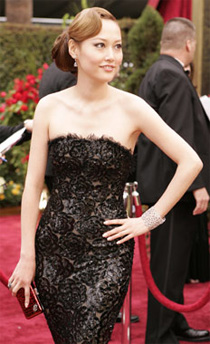 Ah well, maybe next year. Japan failed to produce its first acting Oscar in 49 years last night as Kikuchi Rinko (26) lost out to Jennifer Hudson (25) for the best supporting actress award. The relatively unknown Kikuchi has had a dream ride with her new found fame and success in the movie "Babel" and remained pretty upbeat. "The awards are over now, so I've completely 'graduated' from Babel. The Oscars were really fun and a great experience. Through this movie I've learned so much and the world has opened up for me." She's already working on her next Hollywood project, co-starring with Rachel Weisz and Adrien Brody in "The Brothers Bloom".
Meanwhile, Clint Eastwood's gritty WWII film "Letters From Iwo Jima" was pipped for the best picture award by Martin Scorsese's "The Departed", the remake of Hong Kong flick "Infernal Affair", which also won Scorsese the best director Oscar on his sixth nomination. Forest Whitaker and Helen Mirren won the best actor and actress awards, with Alan Arkin recognized as the best supporting actor.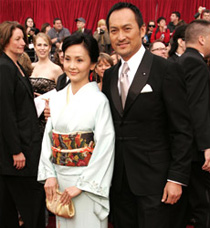 Filmed entirely in Japanese with a Japanese cast, "Letters…" failed to become the first totally foreign-language movie to win best picture and of its four nominations it took only the award for best sound editing. But the movie's star, and 2004 best supporting actor nominee, Watanabe Ken (47, shown with wife Minami Kaho) got his moment in the spotlight. Together with veteran French actress Catherine Deneuve, he presented a feature on the 50-year history of foreign films at the Oscars. He spoke in confident English that no doubt made him the envy of many a Nova student! Another Japanese who missed out this year was makeup artist Tsuji Kazuhiro (37), who was nominated for his work on the Adam Sandler movie "Click".
• Guitarist Ohmura Tasshin (31) has quit the rock trio Kururi. The band will continue as a duo with Kishida Shigeru (30) on vocals and bassist Sato Masashi (30), who is also president of their record label "Noise McCartney Records". Another former member of the band is drummer Christopher Mcguire (31), who was later briefly with Kid Dakota in the U.S.
• Actress Itaya Yuka (31) has married stylist Furuta Hirohiko (40). The two first met about 12 years ago, but started dating in 2005.