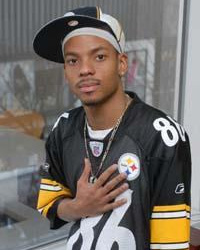 The media is in a flurry over a young African-American by the name of Jero (26) who's set to shake up the music industry. No, he's not a visiting rap star, but the first foreign singer to make a name in the traditional world of enka for many years. And in a clever marketing move, the Philadelphia native's heartfelt Japanese ballads are in stark contrast to his hip hop fashion. Real name Jerome White, Jr, he came to Japan in 2003 after graduating from the University of Pittsburgh, determined to fulfill a promise to his late Japanese grandmother to become an enka singer and appear on the annual "Kohaku Uta Gassen" song show. He achieved the former with the recent release of his debut single, which is set to be the highest-ever pop chart entry by a solo enka singer. According to Oricon, "Umiyuki" will be ranked No.4 in next week's general chart and No.1 in the enka-kayou chart. Though the song's title translates as "Ocean Snow" and conjures up images of the Japan Sea, Jero admits the only ocean he's seen was in California. But he is the real deal, with good looks, an excellent voice, and fluent Japanese, who tactfully includes natto and umeboshi among his favorite foods (both are commonly quoted examples of food that gaijin can't eat). He studied for a time at the Kansai Gaidai University school of foreign languages, and performed on NHK's "Nodo Jiman" amateur song contest in 2003, something that must have made his grandmother Takiko very proud. With his talent and marketability, his chances of fulfilling that second promise with a Kohaku appearance are looking good.
Check out a recent TV appearance by Jero in our Forum.
• Freelance announcer Itoh Rie (33) gave birth to her first child on Saturday. The news was announced yesterday on the TV Asahi early morning show "Yajiuma Plus", from which Itoh is taking maternity leave. Meanwhile, railroad otaku idol Toyooka Masumi (25) is expecting a baby. Five months pregnant, she plans to retire and become a full-time mother from the end of March. She married a 35-year-old company employee last November.